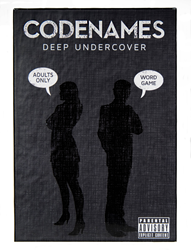 (PRWEB) August 01, 2016
A new spin-off of the hit game, Codenames takes players Deep Undercover with all-new words, art and mature play. Codenames: Deep Undercover will debut at Gen Con, and will be available exclusively in North America at Target and Target.com.
Vlaada Chvatil's Codenames has been a smash hit since its release, it was most recently nominated for the prestigious Spiel des Jahres and the won the Origins Awards for Game of the Year, Best Family Game and Fan Favorite.
"We anticipate a strong reception for Codenames: Deep Undercover. This is a colorful twist on a great game," says Joshua Githens, Czech Game Editions North American Sales Director.
Codenames: Deep Undercover is an adults-only, mature version of Codenames using the same popular game mechanics, but introduces all-new words, packaging, "by-standers" and art. A new twist is added with the inclusion of blank cards, allowing players to introduce their own words to the game.
The gameplay remains the same, where each team has a spymaster looking at a key card, gives their team a one-word clue and a number to locate their team's words (spies).
MSRP is $19.99. 4 to 8 or more players, 18+ yrs
http://www.target.com/p/codenames-deep-undercover-board-game/-/A-51093096
Contact: MoeMoneyGreenbacks(at)gmail(dot)com