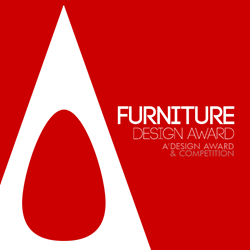 Como, Italy (PRWEB) August 02, 2016
The A' International Furniture Design Awards, organized by A' Design Award and Competition, has released its 2016-2017 call for entries. Annually organized and highly recognized furniture competition, A' International Furniture Design Awards is inviting furniture and product designers, industrial design studios and furniture manufacturers to submit concepts and realized work for a new year of accolade. Designs and projects are carefully evaluated by a distinct panel of jury composed from industry professionals, academics and furniture and design-oriented media.
The A' Furniture Design competition is accepting designs that were developed within last years and all the project can be submitted under multiple sub-categories such as Storage and Display Furniture, Seating and Comfort Furniture, Tables and Desks Furniture, Baby and Kids Furniture, Commercial Furnitures and Furniture Sets. More information on the last year winners and nominated projects could be found at https://competition.adesignaward.com/winners-category.php?CATEGORY=1
Deadline for entries to A' Furniture, Decorative Items and Homeware Design Awards is on September 30, 2016 with a possibility of a late nomination until February 28, 2017. The A' Furniture Design Awards list of winners will be announced on April 15, 2017.
Laureates of the International A' Furniture Design Awards will be granted the A' Design Prize which contains a series of marketing and publicity tools together with an exclusive trophy, excellence in design certificate and inclusion in a yearbook of awarded designs. In addition 2016-2017 period winners of the A' International Furniture Design Awards will get an exclusive interview which will be published at Designer Interviews as well as granted an inclusive winners' Press Kit containing a press release for award announcement in addition to design images, photographs of the designer, logo of the designer and the client and dozens of high-resolution photos and images.
About International A' Furniture Awards
Annually organized International A' Furniture Design Award has the primary aim of creating a global awareness and understanding for good design by recognizing the best furniture, decorative and homeware designs from all over the world. The ultimate aim of the A' furniture Design Competition is to push designers, companies and brands to develop exclusive and superior products that benefit society and push industry toward sustainability and innovation. To learn more about the International Furniture Design Awards, please visit http://www.designaward.com