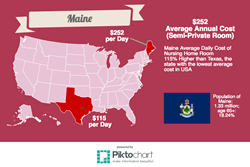 We become part of the family and offer a safe, engaging and nurturing care that lessens the worry for families.
Chicago, Illinois (PRWEB) August 01, 2016
Maine nursing home rates are the 10th highest in the nation, with an average annual cost of approximately $91,980 (based on semi-private rooms), or $7,657 per month per month.
Maine seniors needing nursing home care can now view the most recent ratings and costs of nursing homes in their area by using the interactive Caregiverlist® Nursing Home Directory. This month's update of the Maine Caregiverlist® Index, indicates that the average cost of both private and semi-private nursing homes in Maine is $264 per day. Of the 110 total nursing home in Maine, well over half (77) rate 4-stars or better.
Caregiverlist® Rating Criteria National Averages for Maine Nursing Homes
July 2016, National Averages Weighting for Rating
2 hours, 28 minutes: C.N.A. Hours per Resident per Day 40%
15.7%: Long-stay Residents with Increasing Activities of Daily Living Needs 20%
1.0% Short-term Residents with Pressure Sores (Bed Sores) 20%
Overall Medicare Star-Rating Score 20%
July 2016 Caregiverlist® Maine Nursing Home Rating and Cost Index
Snapshot:
Total Number of Nursing Homes: 110
Average Private Room Price: $276
Average Semi-Private Room Price: $252
Caregiverlist Nursing Home Star Rating:
5-Star: 15
4-Star: 62
3-Star: 27
2-Star: 1
1-Star: 5
Average : 3.3 (out of 5) stars
The Caregiverlist® rating combines 4 criteria to calculate an overall star-rating with a 5-star rating as the highest and a 1-star rating as the lowest score, as rated against the results for the total number of nursing homes.
Maine seniors and their families must remember that nursing homes have become an extension of a hospital stay and many times Medicare health insurance will authorize a hospital discharge directly to a nursing home for rehabilitation after a major medical event has occurred. This means researching the right nursing home ahead of time will ease the transition should a medical emergency occur.
Because seniors must private pay for a nursing home if needing care beyond the number of days Medicare will reimburse (usually only up to 100 days), many seniors also explore senior home care and assisted living options. Some assisted living centers also provide nursing home care.
Seniors who prefer to age at home may choose professional in-home senior care, based on cost and level of care needed. The hourly rate for senior home care in Maine can range from $16 to $34 per hour, depending on the location and level of care required, with the added benefit of one-on-one assistance. "We have been able to help families stretch their savings to cover elder care costs and at the same time provide compassionate care that goes above and beyond in the home," says Sonia Garcia of FirstLight Home Care of Southern Maine. "We become part of the family and offer a safe, engaging and nurturing care that lessens the worry for families." A quality home care agency will also conduct the necessary background check and provide all liability and worker's compensation insurance protections and payroll taxes as required by law.
Seniors should review the ratings and costs of nursing homes in their area and then visit the nursing homes which meet their budget parameters. Ratings for nursing homes are only a starting point and while the Caregiverlist® Index calculates a custom rating based on the most important criteria for quality, Medicare will only begin auditing the nursing home's submitted information for C.N.A. staffing next year. Right now all of the information for the nursing home ratings is self-reported.
View Caregiverlist's most recent at-a-glance Maine Nursing Home Cost Infographic here.
About Caregiverlist®
Caregiverlist.com® is the premier service connecting seniors and professional caregivers with the most reliable senior care options, highest quality ratings and outstanding careers nationwide. Founded by senior care professionals, Caregiverlist® delivers the efficiencies of the internet to senior care companies by providing online job applications, caregiver training, background checks and industry news. Seniors and caregivers can access senior service information "by state," view nursing home costs and star-ratings and learn about all senior care options and quality standards. For more information, please visit http://www.caregiverlist.com.