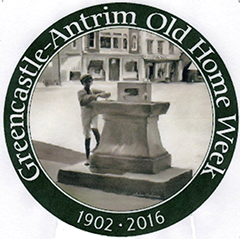 The centerpiece of the week is the Annual Old Home Week parade.
Greencastle PA (PRWEB) August 01, 2016
Franklin County Visitors Bureau invites the public to enjoy Greencastle Old Home Week from Friday, August 5 through Saturday, August 13. Old Home Week celebrates community, bringing together past and present residents as well as families and friends with connections to Greencastle PA. The 2016 Old Week is the 39th such event. It was started by Philip Baer, a concert pianist from Greencastle, PA, and first called "Old Boys Reunion." Shortly, Old Home Week became the whole town's reunion and tribute to Greencastle PA.
Activities throughout the event include a two-day antique and collectible show, a 5-K race, evening concerts in Jerome King Park, nightly live entertainment on the square, car show, Old Home Week parade, numerous gatherings to reminisce, walking tours, bike tours, a variety of open houses and fireworks. The complete schedule is available on the dedicated Old Home Week website here.
The centerpiece event of the week is the Annual Old Home Week parade. The two-mile parade draws organizations, marching units and floats, bands, and more from the three-state region of Pennsylvania, Maryland, and West Virginia. More than 6,000 watch the parade. Throughout the week, a number of Greencastle-Antrim High School classes hold reunion events. The entire week is a chance for residents to remember Greencastle throughout their lifetime and an opportunity for new residents to learn about the community before they called it home. Old Home Week is a tradition and a tribute to hometown.
The Franklin County Visitors Bureau invites all to explore Franklin County PA to enjoy the trails of history, arts, and architecture, recreation, natural beauty, fresh foods and the warm hospitality of communities like Chambersburg, Greencastle, Mercersburg, Shippensburg, and Waynesboro. Franklin County PA is located just north of the Mason Dixon Line and is an easy drive to Washington DC, Philadelphia, and Pittsburgh. Discover more…plan a visit soon at ExploreFranklinCountyPA.com or by contacting 866.646.8060.