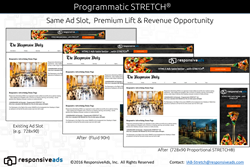 Same Ad Slot, Brand Premium and Engagement 3x Lift & Publisher 10x Revenue Opportunity
New York, New York (PRWEB) August 02, 2016
ResponsiveAds, Inc., the leader in Responsive Web Design HTML5 formats, announces today a unique cross-screen format configuration that can be served programmatically into existing Internet Advertising Bureau (IAB) ad slots (728 x 90, 970 x 90, 300 x 250, 970 x 250, etc...). The ad-tag is served as normal, but it will stretch to fill the empty space when the IAB banner is floating in the middle of the page. Our patent-pending STRETCH® cross-screen technology eliminates the white space on either side.
This new format is break-through as it does not require any code on the publisher's site. It offers a better user experience of natively fitted ad creatives and enables publishers to sell at premium rates via exchanges and demand-side platforms (DSPs).
With this new approach to programmatic, a single fluid creative that works on mobile, tablet and desktop can be easily set up and sold as a one ad-tag solution served to fit edge-to-edge in ad slot spaces. The units just need to be tagged and sold as "PS" (Programmatic STRETCH®) for go-to-market IAB sizes 728 x 90, 970 x 250, 300 x 250 (728 x 90PS, 970 x 250PS, 300 x 250PS). STRETCH® units also shrink in size to accommodate mobile. For example, 728 x 90 will adapt down to 300 x 90.
As of today, ResponsiveAds will begin piloting these formats via several DSP partners and a group of publishers to be announced after the pilot and case-study.
"Approximately 90 percent of all display media bought and sold in digital takes up these core IAB sizes. We have been so frustrated seeing floating non-fitting ad boxes on pages that in order to create a premium visualization of brand messaging we leveraged our ResponsiveAds technology together with partners to solve this problem. Offering this first Responsive cross-screen programmatic format is exciting to see the opportunities for more rich-media across the web and no more bad ads," said Matthew Snyder, CEO of ResponsiveAds.
ResponsiveAds' core product is its Narrator™ Studio for designers to produce pixel-perfect HTML5 responsive banners that can fit in infinite sizes in less than half the time to produce existing HTML5 ads. Programmatic STRETCH® units will be offered as a series of templates and can be crafted in studio mode to make it easy to quickly build and deploy by designers.
There is no cost to sign up and trial STRETCH® products. Once customers have reached a threshold of usage, the STRETCH® service utilizes a pricing structure that combines CPM and cost-for-creative.
Visit http://responsiveads.com/sign-up to sign up for an invitation and receive pricing information.
In addition, ResponsiveAds will be providing live demonstrations of the Programmatic STRETCH® product at the IAB HTML5 Platform Showcase event on August 2: http://www.iab.com/events/html5-platforms-showcase/.
For more specific information concerning Programmatic STRETCH®, such as one-sheet with publisher, DSP and exchange information, please contact: iab-stretch(at)responsiveads(dot)com.
About ResponsiveAds, Inc.
ResponsiveAds, Inc. (Sprint-Techstars 2016) is the publishing and advertising industries' leading responsive web advertising-focused company, built from the ground up to best serve the new challenges in multi-screen design and monetization. Its innovative, patent-pending technology gives publishers the freedom to seamlessly scale existing ad ops organizations to the needs of the marketplace.
ResponsiveAds is offering a suite of products and professional services targeting multi-screen advertising for revenue acceleration across all screens. ResponsiveAds is working with industry groups such as the IAB (Interactive Advertising Bureau) to develop these new industry ad format standards. The company is comprised of mobile and online advertising technology experts passionately looking to solve the problems of convergence and monetization of media. For more information, please visit http://www.responsiveads.com.
STRETCH®, Narrator™, and ResponsiveAds™ are trademarks and registered trademarks of ResponsiveAds, Inc.