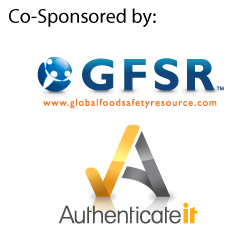 Our panelists will provide the latest updates on how prevalent food fraud is and what you can do mitigate your company's food fraud risk
Toronto, ON (PRWEB) August 03, 2016
Global Food Safety Resource (GFSR) is pleased to present "The Next Big Killer: Food Fraud—Protecting Your Brand Through Transparency," an August 24 panel discussion that is being co-hosted by Authenticateit, the global leader in helping companies protect their brand from counterfeiters.
This informative online discussion will be moderated by GFSR's CEO, Tina Brillinger, and Dawn Van Dam, an innovative business leader and facilitator. This discussion will bring industry stakeholders and subject matter experts together to increase awareness of food fraud and provide strategies to mitigate the risk to your brand while improving consumer trust.
Panelists will include:

Karen Mills Director, Quality Assurance (Canada) at Highliner foods
Yves Rey, Corporate Quality General Manager at Groupe Danone
John Spink, Director & Assistant Professor, Food Fraud Initiative, Michigan State University
Mitchell Weinberg, CEO, INSCATECH
Sara Zborovski, Partner, Norton Rose Fulbright
In this informative webinar, you will learn:
How transparency improves brand trust with consumers
How to detect a problem of food fraud before it's too late
More about the importance of transparency in supply chains
Registration for the August 24 online panel discussion is complimentary, and interested parties are invited to learn more and register at: http://bit.ly/2a2Dlhx. The discussion begins at 11:00 a.m. EST.
"Food fraud and brand protection is a key issue for food businesses who operate in global supply chains. I'm really pleased we've been able to bring together so many high level experts on this topic who know what's really going on out there," says Ms. Brillinger. "Our panelists will provide the latest updates on how prevalent food fraud is and what you can do mitigate your company's food fraud risk. They'll share strategies for protecting your brand through transparency and anyone who registers will be able to ask questions of our panelists.
"You can't afford to miss this discussion!"
Who Should Attend
Interested parties working in food safety and quality assurance, regulatory, operations, marketing, C-suite and other related positions whose area of responsibility might be affected by food fraud.
When: Wed. August 24th, 11:00 a.m. EST
What: Video Panel Discussion on WebEx Platform
Registration: http://bit.ly/2a2Dlhx
About Co-Sponsor: Authenticateit
Authenticateit is the first-of-its-kind cloud-based track-and-trace system that enables brand owners, border protection agencies, distributors & consumers to trade in a safe and trusted environment. The front end of the platform is a free smartphone app that enables consumers or any other interested party to access product safety information, authenticity checks and other useful product information through a simple scan of the product's serialized barcode It operates in full compliance with industry standards, while adopting GS1 EPCglobal industry-driven standards.
About Host Sponsor: Global Food Safety Resource (GFSR)
Global Food Safety Resource is an online information hub delivering trusted food safety solutions and expertise to food businesses operating in global markets. GFSR strives to promote best practices to all sectors of the food industry, by offering multi-channel access to online communications in up to 60 languages. GFSR's mission is improve consumer health by to ensuring a safer food supply. http://www.globalfoodsafetyresource.com
Media Inquiries:
Tina Brillinger, President & CEO
Global Food Safety Resource (GFSR)
editor(at)gfsr(dot)ca
Office: 1.888.437.7395 x 107
####