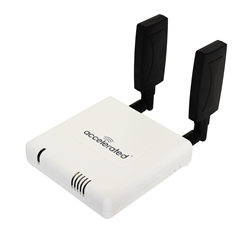 The device firmware monitors, troubleshoots and rectifies connection issues prior to them impacting the end user or creating a cloud monitoring alert
Chicago, IL (PRWEB) August 01, 2016
Accelerated today announced the general availability of its latest firmware for its award winning 6300-CX LTE router product line. A key new feature 'Carrier Smart Select' (TM) allows Accelerated products to automatically update and optimize both device and embedded model firmware based on the carrier SIM inserted into the device.
Jason Dorough, VP Sales, said: "This customer driven innovation is important because many of our reseller and channel partners deploy to end customer sites and don't always know in advance which carrier will have the best signal for the target location. By deploying a single SKU Accelerated appliances simplify our partner inventory management and operations, and single SKU fulfillment also minimizes truck rolls and the need for expensive onsite technical support to exchange devices. In addition, having the unit automatically optimize the device for the installed SIM provides for a better overall experience for not only the channel partner doing the deployment, but also the end customer"
In addition to its Carrier Smart Select (TM) technology this firmware also introduces "Smart Connectivity Monitoring" (TM). Rick Gretsch, VP Product Management, said: "This feature adds advanced logic to the device firmware for connection checking and connection redundancy complementing the modem module firmware. The device firmware monitors, troubleshoots and rectifies connection issues prior to them impacting the end user or creating a cloud monitoring alert. This saves money by simplifying support & operations, reducing truck rolls and minimizing the need for expensive on- site technical resources"
Other new features in this release include support for Verizon Private Networking, advanced antenna management options, Netflow integration, reduced APN search times, load balancing, and a suite of security and reliability improvements.
All of the new firmware features are also integrated into Accelerated View, Accelerated's cloud based management system. Gretsch said: "Allowing a customer to see bandwidth consumed by all applications, and also by which user, allows administrators to better manage their networks. Our tools provide an administrator the big picture on how their network is being used and empowers them to efficiently plan for future growth. It also allows an administrator to minimize non-business utilization in real time."
For more details on this release please refer to the Accelerated firmware 16.7.49 blog. (Blog URL/details being updated now)
About Accelerated - Connected Is Everything™
Accelerated is an innovator and leading designer of VPN, Cellular and OEM solutions specializing in global cellular data network communications. Its industry-leading hardware and software solutions provide primary and failover fixed wireless data connectivity for business continuity and cloud-based network management. Since the creation of its flagship NetBridge product in 2006, Accelerated continues to innovate its line of cellular hardware, network management software and network function virtualization (NFV) technology. Accelerated offers a range of wireless WAN (WWAN) products including the 6300-CX and 6300-LX series of LTE, 4G and 3G router products ideal for retail or branch locations or even Machine to Machine (M2M) and Internet of Things (IoT) environments. More advanced communication technologies such as its 5301-DC Dial-to-IP™ Converter and its 5400-RM Cellular Out-of-band (OOB) Remote Manager, a compact, high-performance, remote network management platform complement its product line. All Accelerated products can be centrally managed using the Accelerated View™ cloud-based network management software. Accelerated is headquartered in Tampa, Florida, with offices in Chicago, Atlanta and Brisbane, Australia. For more information, visit: Accelerated.com.