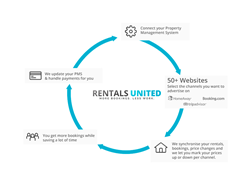 Partnering with Rentals United is a chance for our clients to extend even more their visibility on a great panel of portals.
Barcelona (PRWEB) August 04, 2016
Rentals United (http://rentalsunited.com) is pleased to announce five new partnerships with leading Property Management Systems (PMS): MPConcept (France), tabs (United Kingdom), Orbirental (United States), BookingSync (France) and Streamline (United States). Rentals United rapid growth in property numbers (over 100,000 worldwide rentals) with quality content and all on online booking, are some of the main reasons why both niche and global distribution channels are quick to connect to the attractive platform.
The new automatic PMS connections will allow vacation rental providers to seamlessly distribute their inventory via the Rentals United channel network which include Airbnb, Booking.com, HomeAway, TripAdvisor and 50 more. Vacation rental providers no longer need to manage multiple channels as inventory and rates are managed automatically.
French MPConcept developed a product called "Helios Connect" which is a real estate management software for professional vacation rentals and holiday residences. Jean Claude Poirel, Manager at MPConcept says "Rentals United complements our software solutions with an attractive offer for our customers."
tabs is a UK-based booking software provider for cottage agents that will integrate with holiday cottage owners' websites and brand with total flexibility. Rentals United is tabs only integrated channel manager giving their customers access to 50+ niche and global websites to advertise on.
Based in San Francisco, Orbirental provides an open technology platform for hosts that automates most of their work, helping them to maximizes lead-to-booking conversion rates, decreases operation costs and ultimately increases rental revenues. Stephan Osmont says Orbirental connected to Rentals United because they wanted to provide their customers with "more distribution alternatives for their inventory, seamlessly, and at the lowest possible cost."
Bookingsync based in France has developed a powerful platform for vacation rental manager to access a number of services, from Channel Management with Rentals United, over rates engines, notifications workflow, guest services & cleaning management. Sebastien Grosjean CEO & Founder says "Partnering with Rentals United is a chance for our clients to extend even more their visibility on a great panel of portals."
Lastly Streamline, the Arizona-based Property Management System that has developed over the last 10 years a whole array of useful features for property managers and owners, is now connected to Rentals United giving their clients the possibility to access a whole new range of advertising possibilities with both niche and large channels in Europe, Asia, Russia and the States.
ABOUT RENTALS UNITED
Rentals United is a channel manager for vacation rentals. The cloud-based software distributes availability, pricing, property information and photos in real-time onto 50 channels, both niche and large.
A recent survey by Rentals United shows that property managers and owners using the platform save time (20hrs per month average) and make more bookings (5-50 more bookings depending on the size of their portfolio).
Established in 2013 by the founders of some of the leading vacation rental agencies, Rentals United is currently expanding their operations on all five continents. For any press related enquiries please email Vanessa de Souza Lage vanessa [at] rentalsunited.com or call +34 935 415 867