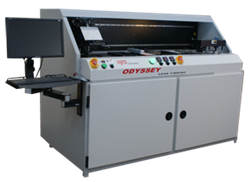 The Odyssey LX is a great addition to our process. It allows us to tin virtually any component with a huge increase in capacity and speed.
North Adams, MA (PRWEB) August 03, 2016
Cord Master is pleased to announce the installation and operation of a new RPS Automation Odyssey LX high volume lead tinning system for electronic component tinning and re-tinning applications. The Odyssey system features: High Volume, High Mix Capacity, Unlimited Programs, Auto Load/Unload, Mil Spec Compliant, Interpolated X and Z Rotation Motion Control, High Precision Ball Screw Motion, Wide Process Control: solder temp, emersion depth, travel speed, dwell time, simultaneous moves.
"The Odyssey LX is a great addition to our process." said Bernie LaRoche, President of Cord Master. "It's precise process repeatability will allow us to tin virtually any component type with a huge increase in capacity and speed. Meeting and exceeding customer requirements is the core of what we do. This investment in capacity and process improvement will help us support our customers for many years to come!"
The Odyssey LX system, manufactured by RPS Automation (3808 North Sullivan Road, Building 14J, Spokane Valley, WA, 99216-1610, http://www.rpsautomation.com/) is compliant with multiple standards including:

GEIA-STD- 0006 For Solder Dip to Replace Finish
ANSI-J- STD-002 Method A, B, C, and D (w/wave)
IEC-68- 2-20 Test TA, Para 4.9, and Test TB,
IEC-68- 2-58 Test TD
JESD22-B102D Method 1
JESD22A111 Method 5.6.2
JISZ-3198- 4 Method B
Mil-STD- 202 Method 208
Mil-STD- 883
If you would like Cord Master to provide robotic hot solder dip services for your company, please visit our website at http://www.cordmaster.com. You can submit a quote request detailing your needs.
About Cord Master Engineering
Cord Master Engineering is an ISO-9001, AS-9100C and HUBZone certified build-to-print contract manufacturer of custom wire harnesses, cable assemblies, avionics box builds and low smoke zero halogen power cords. Our services also include a wide variety of lead tinning applications. We are located in North Adams, MA. Call 413-664-9371 or email hugh(at)cordmaster(dot)com for more information today.