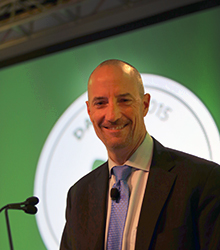 People like Eddie, Blake, Jeff, John, Paul and Joel, and all the other folks who attended the event and who work hard every day to bring value to their investors, drive more and more awareness of what is possible in the small balance real estate world.
Portland, Ore (PRWEB) August 01, 2016
Four small balance real estate (SBRE) entrepreneurs received awards as best in class in their respective categories for 2016. Awards were given in SBRE categories as follows: SBRE Syndicator of the Year, SBRE Emerging Fund Manager of the Year, SBRE Fund Manager of the Year, and SBRE Entrepreneur of the Year. Each category contained five finalists from whom a winner was chosen based a combined formula of fan voting, peer voting, investor voting, and Fairway America voting.
The winners of the SBRE Awards were Worcester Investments from Kansas City MO as SBRE Syndicator of the Year. Brothers Paul and Joel Worcester accepted the award on behalf of the company. SBRE Emerging Fund Manager of the Year went to Alturas Capital of Boise ID, whose CEO Blake Hansen accepted the trophy. SBRE Fund Manager of the Year went to Grand Coast Capital of Boston MA, whose CEO Jeff Carter was on hand to accept the award. Finally, SBRE Entrepreneur of the Year went to John Helmick whose company Gorilla Capital is based in Eugene OR.
Winners were determined based on four inputs. Forty percent of the determination was weighted based on general online fan voting, which totaled 683,667 votes. Twenty percent was based on votes from registered investor users on Fairway America's online site, SBREfunds.com. Another twenty percent was based on voting from Fairway's community of fund manager and SBRE entrepreneurial peers. The final twenty percent was based on Fairway America's sole vote.
Fairway America created the SBRE Awards to help recognize pioneers and leaders in the rapidly growing Small Balance Real Estate industry. SBREfunds.com is the industry's leading community for both SBRE managers and the high net worth investors who capitalize them. It provides education, tools and access to both constituents. "We are very proud of the event and particularly of the SBRE Award winners", said Fairway America CEO Matt Burk. "All of these SBRE entrepreneurs, including the finalists, are deserving of the recognition they received. They help make the industry great."
The CapitalFlow Conference was designed with a different formula to augment the SBRE Summit and to continue to help facilitate the SBRE community of entrepreneurs and investors. The inaugural event included nearly 150 entrepreneurs and fund managers from around the United States for mind share and mutual learning, collaboration on the key issues they all face, and to enhance their capacity to successfully raise capital for their SBRE enterprises. The event is expected to be held annually in Fairway's home town of Portland OR. "We couldn't be happier with the way the event turned out", said Burk. "If we can deliver great value, the event will just get better and better every year."
In addition to the award winners, the first ever inductees into the SBRE Hall of Fame, Eddie Speed of NoteSchool and Colonial Funding Group and Matt Burk of Fairway America and SBREfunds.com, were honored at a lunchtime ceremony. Speed is a veteran of the discounted note purchasing industry and a dedicated educator of entrepreneurs and investors interested in that sector of SBRE. "People like Eddie, Blake, Jeff, John, Paul and Joel, and all the other folks who attended the event and who work hard every day to bring value to their investors, drive more and more awareness of what is possible in the small balance real estate world."
The first ever SBRE Shark Bowl contest was held after the SBRE Awards ceremony. Five SBRE entrepreneurs were each given 10 minutes to pitch their investment opportunity to a panel of five judges. The judges scored each presenter on a scale of 1 to 10 with the lowest score being dropped and Aaron Gillingham of Aries Capital NW based in Portland OR edged out David Sobelman with Generation Income Properties to capture the $100,000 capital commitment from one of Fairway America's proprietary investment funds contingent on the completion of due diligence.
About Fairway America
Fairway America, LLC is a longtime real estate asset based fund manager and real estate finance advisory firm providing strategic business planning services nationwide to SBRE entrepreneurs around the structure, architecture, and administration of proprietary 506 Regulation D pooled investment funds. Fairway's related entities manage two proprietary funds, Fairway America Fund VI, LLC, and Fairway America Fund VII LP, each focused on the SBRE space with different asset allocations and investment features. Both funds consider investments nationwide.
About SBREfunds.com
SBREfunds.com is an online education, information and match-making site that exclusively lists small balance real estate investment opportunities. Created by Fairway America, SBREfunds.com provides entrepreneurs and investors with education and connectivity to better capitalize and grow an SBRE enterprise. From connection with investors to strategic capital raising plans to live events, SBREfunds.com is the definitive resource for SBRE entrepreneurs and accredited investors to understand how to successfully work with one another for mutual benefit and growth.
Neither Fairway America nor SBREfunds.com is a registered broker-dealer or investment advisor. None of the Fairway companies perform any activities of a broker or investment adviser, including but not limited to, soliciting investors, providing investment advice, negotiating securities transactions or the terms, conditions or provisions of any offering, or recommending the purchase of securities. This press release does not constitute an offer or solicitation to sell securities in any of the companies mentioned, any funds presenting at SBRE Summit events, or any related or associated companies. Investors must not rely on information provided in this press release for investment decisions.