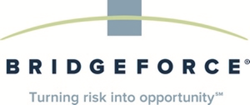 Chadds Ford, PA (PRWEB) August 02, 2016
Bridgeforce subject matter experts were invited to present on the importance of workflow capability as part of the Collections and Recovery Track at FICO World, a conference focused on the latest technologies and strategies for powering better analytical decisions.
During the session titled, "Your Secret Weapon in Compliant Collections: Workflow Capability," Michelle Macartney, Managing Director US Practice, and Noah Stayton, Director, US Practice explained how using workflow capabilities and technologies can help collections organizations more effectively manage enhanced compliance expectations. Specific examples, such as complaints and settlements, were discussed to show how workflow management tools enhance control capabilities embedded within processes to achieve compliant collections.
Key topic areas covered in the session were:

Regulatory focus areas and hot topics for debt collection
Implications and expectations for collections technology in the new environment
Collections technology and the importance of workflow management
For anyone interested in the topic of workflow management in today's technological and regulatory environment, please download the presentation slides from the session here.
About Bridgeforce
Bridgeforce is a specialized multi-national consulting firm serving a variety of clients involved in all aspects of the consumer and small business lending and payments space. Over 75 percent of Bridgeforce consultants come directly from client-side leadership positions across multiple parts of the credit lifecycle. Combined with subject matter expertise in operations, technology, strategy and regulatory issues, Bridgeforce has the knowledge and experience to make the hard choices in developing and implementing best-fit solutions that are both achievable and lower the risks of execution to ensure sustainability. Bridgeforce success can be attributed to a culture fostering innovation and evolving experienced-based best practices recognized within the industry. For more information, visit http://www.bridgeforce.com.