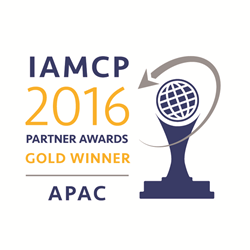 REDMOND, Wash (PRWEB) August 01, 2016
"We are delighted to congratulate QUADROtech on their win," said award committee chairperson and former IAMCP President, Gail Mercer-MacKay. "Whilst the acceleration of cloud-based technology solutions has disrupted the market, IAMCP members like QUADROtech are innovating, transforming their businesses and enabling customers around the world to capitalize on that disruption. New solutions, new business models and new markets are opening as a result, creating greater profits and more robust and secure businesses."
"We are honored to be awarded APAC Gold winner by IAMCP for our intense commitment to building mutually-beneficial partner-to-partner alliances within Microsoft's partner ecosystem," said Dan Langille, QUADROtech's director of business development. "MPN's mantra to 'specialize, focus on what you do best, and partner for the rest' is embedded deeply in our go-to-market strategy. This distinction is evidence of the immense pride we take in creating revenue opportunities for our partners."
QUADROtech is a hybrid ISV/MSP focused on building IP and delivering managed services that drive deep and rapid active usage of Microsoft Office 365 and Azure. They specialize in empowering partners to co-sell and co-deliver 'fixed price, fixed outcome' migrations of advanced email workloads – archives, PSTs, and Public Folders – that complement the live mail services available through FastTrack.
About IAMCP
The International Association of Microsoft Channel Partners (IAMCP) is the leading independent global organization for business networking in the Microsoft partner eco-system with 80+ chapters in over 40 countries around the world. IAMCP members represent the trusted, independent voice of the Microsoft partner community.
Microsoft Partners that are part of the IAMCP community typically enjoy significantly higher revenues and higher margins than their counterparts outside of the community. Members benefit from P2P relationships with other trusted members to generate these higher margins and deliver exceptional solutions and services to their customers.
The IAMCP Member Awards Program
Launched in 2015, the IAMCP Awards Program is designed to encourage and recognize Association members for the outstanding, innovative and creative products and services they deliver through trusted P2P and channel relationships. Winners and finalists benefit from increased recognition through press and social media.
About QUADROtech
QUADROtech (http://quadro.tech) is a hybrid ISV/MSP that helps customers to optimize their operations and empower their employees to collaborate and be productive anywhere on any device by bringing ALL their email data (live mail, email archives, PST files, and public folders) home to Microsoft Office 365 and Azure.
QUADROtech's staff of industry experts and its worldwide network of partners work in collaboration with Microsoft account teams and the Microsoft FastTrack Centers in enterprise and midmarket accounts globally to overcome barriers to cloud adoption and drive deep and rapid active usage of Office 365 and Azure.
QUADROtech is a trademark of QUADROtech Solutions AG. All other trademarks are the property of their respective owners.