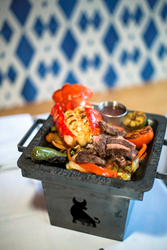 Austin, Texas (PRWEB) August 01, 2016
It is with a heavy heart that the owners of local upscale Mexican restaurant on West 6th Street, Benji's Cantina, announce that the closing of its doors will take place on Sunday, August 7th.
Over the past three years, Benji's has provided an exquisite atmosphere and vast menu made of fresh farm to table ingredients from acclaimed Roaring Fork and UT Club veteran chef Blake Keely. From their sprawling and delectable Sunday brunch buffet to their mouth-watering famous fajitas, Keely has truly outdone himself during his tenure at the restaurant.
Benji's would like to thank their many devoted customers and the Austin community for their loyal support throughout the years. The one of a kind dining experience could not have been possible without their incredible staff and kitchen, to whom they thank for their service.
To celebrate their last week of business, Benji's asks that you come and join them on last time for sizzling fajitas or their final brunch buffet seating on Sunday, August 7th. Benji's will be open during their normal business hours leading up to the final day.
Benji's tender and delicious fajitas, displayed in their signature cast-iron anafres, will carry on as Chef Keely plan to establish a new catering business (Benji's Catering) that will feature these along with other customer favorites for off-premise events.
Stay tuned for an announcement of plans to re-concept the space.
For any additional information, please email PR(at)kpghospitality(dot)com.