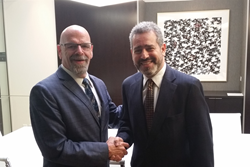 It's a giant leap into solar renewable energies as a recognized tool in Quebec's recently announced energy policies - Donald Angers
Montréal, Québec (PRWEB) August 02, 2016
renewz sustainable solutions inc, of Montreal, Quebec and Boca Raton, Florida, announced today that it has received funding from C3E, Quebec's Center of Excellence in Energy Efficiency, a fund created by Rio Tinto and Hydro Quebec, in support of local mobility electrification companies.
"This initial investment by C3E recognizes the huge progress that renewz has made in the implementation of its new business plan to become a technology provider into the energy and transport electrification industries through product and go-to-market innovation" said Sass M. Peress, CEO of renewz. "With this first C3E investment, we received more than simply funding. It's a vast network of contacts and talent now available to us. The fact that this unique instrument permits us to accumulate carbon credits through our various projects and repay in kind is a significant boost to the validation of the carbon markets expected to develop in the near future."
"The investment by C3E into renewz will help accelerate the introduction of their technologies into the growing transport markets that are helping to reduce carbon emissions. C3E intends to further support renewz' technology deployments with further investments in the near future. It's a giant leap into solar renewable energies as a recognized tool in Quebec's recently announced energy policies", said Donald Angers, CEO of C3E.
About renewz sustainable solutions inc.
renewz develops and delivers unique solar carport and EV mobility charging technologies. Based in Quebec and Florida, the renewz team provides clients with easy-to-implement renewable energy and electric mobility solutions to help increase environmental stewardship, together with reduced lifetime cost of operations, and superior financial returns.
http://www.renewz.com
About C3E
The Center of Excellence in Energy Efficiency is a creation of two founding members, Rio Tinto and Hydro-Québec, and whose mission is to support local enterprise in the commercialization of innovations in the electric mobility sector. Benefiting from support from the BEIE (Quebec Bureau of Innovation in Energy), C3E invests in electrification of transport and related technologies. The amounts necessary for this funding were obtained from Quebec's "Green Fund", which have been allocated in Quebec's Action Plan for Climate Change of 2013-2020.
http://www.c3e.ca/en
For further information, please contact:
Donald Angers, C3E
angers.donald(at)ceee.ca
T : 819.539.5200 ext.224
Sass Peress, renewz
sass(at)renewz.com
T: 514-909-5047