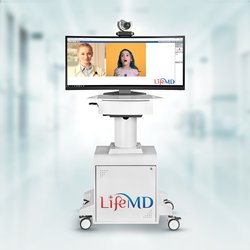 STUDENTS WILL HAVE THE ABILITY TO BE SEEN BY A PEDIATRICIAN WITHIN MINUTES
Boynton Beach, FL (PRWEB) August 02, 2016
LifeMD announced that it will be initiating a school-based telehealth program with the Los Angeles Unified School District starting this fall. The program will begin with a pilot of 5 schools and expand its services, which will help provide real-time video consultations with California-licensed pediatricians for students.
School nurses will assist in the use of LifeMD telehealth equipment such as ear, nose and throat scopes, medical-grade cameras, stethoscopes, thermometers, glucose meters etc., to help pediatricians diagnose and treat students using secure, virtual medical technology. They can even send prescriptions to the pharmacies of the student's families' choice.
Parents who wish may witness the encounter by joining in remotely to access these telehealth visits without having to leave work. Telehealth-enabled pediatricians will now be able to diagnose and treat students with common conditions such as colds, ear infections, the flu, pink eye, upper respiratory infections/bronchitis, and rashes as well as more complex medical conditions such as asthma, obesity, diabetes, and more.
"It's truly an honor to work together with a prominent, forward-thinking district such as the LAUSD. LifeMD will provide access to our telehealth platform, mobile stations and pediatric physician network to enhance the quality of care and accessibility that our children deserve" stated Mark Vollaro, CEO of LifeMD.
Traditionally, students would have to be picked up by parents and taken to a doctor, urgent care center, or even the ER. Now, students will have the ability to be seen by a pediatrician within minutes, allowing parents to stay at work and the student with minor treatable conditions to return to class without losing valuable instructional time.
With school-based telehealth programs, the goal is to help close achievement gaps and reduce absenteeism while improving student grades and graduation rates. Often, families in underserved areas go without access to healthcare and students will miss extended periods of class time when they become sick. The objective of school-based telehealth programs is to improve access to pediatricians, reduce wait time, improve quality of care, and provide convenience for families.
About LAUSD
The second-largest school district in the nation, the Los Angeles Unified School District (LAUSD) enrolls more than 640,000 students in kindergarten through 12th grade, at over 900 schools, and 187 public charter schools. The district spreads over 720 square miles and includes the mega-city of Los Angeles, as well as all or parts of 31 smaller municipalities plus several unincorporated sections of Southern California. LAUSD has a long history of providing access to health care through schools. The Distirct has the largest school nurse workforce in the state, and has numerous health care partnerships with community agencies, including 30 school-based health centers located on various school campuses.
About LifeMD
LifeMD is a comprehensive telehealth company with a proprietary platform that delivers a fully-integrated telehealth solution to connect physicians, medical providers, pharmacists, and patients worldwide. Their telehealth programs focus on providing greater access to healthcare. The LifeMD platform is HIPAA/FERPA-compliant and AES-encrypted which allows for all interaction and communication between physicians, healthcare providers and patients to be performed securely.
The LifeMD platform allows physicians, healthcare providers and patients to connect and manage common medical conditions which can be treated and monitored remotely. Their technology incorporates a cloud-based multi-point video conferencing system with an embedded phone bridge. It uses a codec which is FDA-approved for transmitting medical images, sounds, and data while maintaining cross-platform capabilities. Patients can connect with a provider using their Windows, iOS, or Android devices. Providers can extend their telehealth reach with custom-designed LifeMD mobile cases, telehealth kiosks, and mobile carts.
These systems can be configured to meet the needs of any medical facility, school, or institution. The telehealth stations include two-way video conferencing systems, stethoscopes, multi-purpose scopes, pulse oximeters, thermometers, scales, glucose meters, EKG with spirometry, AB blood pressure cuffs, and battery backup. LifeMD diagnostic equipment and software allows a provider to virtually deliver up to a level 5 healthcare consultation.
For more information please visit http://www.LifeMD.com or contact:
Tim Bruce
(561) 303-2762
Tom Dehnel
(561) 270-6871