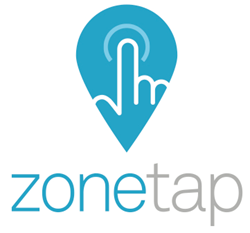 The world's first 100% beaconless, hyper location based marketing solution for apps
Oakland, CA & Wilmington, NC (PRWEB) August 10, 2016
During the early summer of 2016 ZoneTap launched the world's first 100% beaconless, hyper location based marketing (LBM) solution for apps.
"Businesses recognize the importance of reaching their customers in highly relevant situations wherever and whenever they are shopping. For years this has been the seemingly out-of-reach goal for impactful and successful marketing campaigns. Promises of reaching LBM goals have been presented in the form of beacons, wifi, and GPS based geofences. But not one solution in the market has been good enough to lead businesses into the promised-land of an all functional and reliable LBM solution", say the founders.
There is a general industry belief that beaconless geofence, hyper-location based marketing is the future of LBM. ZoneTap's launch of this patent pending solution creates a soup-to-nuts approach to integrate both any outdoor and indoor geofence solely based on GPS coordinates through a SaaS backend and app plug-in on the front end. It gives businesses the tools to actively manage sale and promotion campaigns and successfully push relevant information to their customers by their specific location triggered and received on their smartphone via the business' own app. ZoneTap is designed to be behind the scenes; branding and design is unaffected which allows the solution to run as a silent technology.
This service is quickly becoming a marketing team's best friend with various companies in consumer retail, real-estate, and supermarket industries already showing major interest. The team at ZoneTap states that they are committed to ensuring a fast and easy integration into existing apps, leveraging the business' own install base. The geofence and campaign push process takes minutes to set-up instead of the old way where it would take days or even weeks using costly hardware. Available data analytics tools grants powerful insight on customer's in-store behavior, vital to future impactful promotions. The enterprise class self-service portal gives full power to the business to control their LBM campaign, whether it is with one store or thousands of stores anywhere in the world.
ZoneTap is an Oakland, CA and Wilmington, NC based startup, aiming to build hyper-location based marketing solutions for all businesses that are searching for a better way to connect with their customers in real-time. Their patent-pending beaconless approach along with a fast and cost-effective method to creating marketing campaigns will surely change the way LBM is done.
For more information visit:
http://www.zonetap.com
Connect:
Twitter @ZoneTap
Facebook https://www.facebook.com/ZoneTap