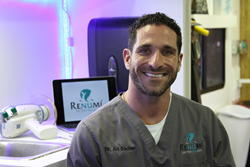 South Florida, Florida (PRWEB) August 02, 2016
Dr. Ari Socher, currently the spokesperson/face of Sensodyne TRUE WHITE toothpaste's national commercial campaigns, has recently started the first and only mobile dentistry in South Florida- called Renumi Mobile Dental.
Renumi Mobile focuses their efforts by taking dentistry on the road- providing oral wellness programming/Dental treatment to clients in substance abuse rehabilitation treatment centers in South Florida. Renumi gives those clients in rehabs a chance to get their smile back and begin their new life pain-FREE. Renumi also provides education lectures on how to quit smoking and how drug abuse effects your teeth.
Our Mission: To build the confidence of addicts seeking recovery by giving back their smiles or removing any high risk/painful dental conditions. This allows addicts to have the best chance of a smooth start to their new life of recovery.
We would love to have coverage of this feel-good story, which I think would be a perfect fit for your programing/market. With south florida leading the country in substance abuse therapy and programs seeking a holistic patient approach, lets bring awareness to this wonderful new approach Dental health.
Thank you for your time, and I look forward to hearing from you!
Check out our RENUMI MOBILE video below
https://www.youtube.com/watch?v=hT2RaTbRHX8https://www.youtube.com/watch?v=hT2RaTbRHX8