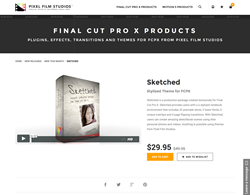 Sketch provides a stylized notebook environment that allows users to create sketchbook scenes using their personal photos and videos
Aliso Viejo, California (PRWEB) August 02, 2016
"Sketch provides a stylized notebook environment that allows users to create sketchbook scenes using their personal photos and videos," said Christina Austin - CEO of Pixel Film Studios.
This package includes 22 shots of varied styles to choose from. Each preset has a unique camera movement to animate it into frame. First, users must choose whether they want a scene to be written or revealed through an ink drip. Written shots animate each character of text in as if the letters were being written on screen while the ink drip presets include a liquid splash that reveals the text. Each ink drip preset contains a unique drip animation.
Sketched environments include an advanced control setup so that users can change scenes however they like. The frame can be altered from a polaroid to simple horizontal and vertical frames, or no frame at all if necessary. Users can adjust the camera movement of each shot by choosing a start and end point and using the on-screen placement controls for additional ease of use. Many more controls be edited using the inspector window in FCPX.
To change the overall hue of the scene users can use the light color picker to select a desired color and then position the light however they like while editing the falloff to create a more wide or narrow range of lightness. Users can then adjust the intensity of the Frame, Drop Zone and Background Colors, or how effected by the light each layer is. Depth of Field can be added to create realistic camera effects, or turned off for a cleaner look.
To further stylize scenes users can add one, or more of the beautiful overlays included in this package. The paper overlay is a looping animation of papers that gives environments the final touches of stylization. Users can adjust the blend mode, color, opacity, speed, strobe and more. A looping flare animation with similar controls is also given so that users can add light effects to scenes easily. A textured frame, vignette and watercolor texture are also included so that users can enhance scenes in a variety of ways.
Sketched contains a set of page flipping transitions that animate from the Left, Right, Top and Bottom of the Screen. Users can create an awesome connection between scenes using these page flipping transitions as if the video was straight out of a notebook. Presets that include motion blur and without motion blur are included so that users with less powerful computers can enjoy the transitions as well. Sketched is made exclusively for Final Cut Pro X.
Established in 2006, Aliso Viejo, California-based Pixel Film Studios is an innovative developer of visual effects tools for the post-production and broadcast community. Their products are integrated with popular non-linear editing and compositing products from Apple FCPX. Apple, the Apple logo, Mac OS X, and Macintosh are registered trademarks of Apple Inc. in the U.S. and/or other countries. All other trademarks and trade names are the property of their respective owners.