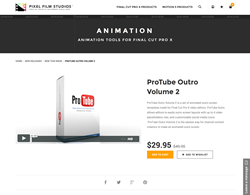 With up to 4 video placeholders, text and customizable social media icons ProTube Outro Vol. 2 will help channel content creators make an animated outro screen with ease
Aliso Viejo, California (PRWEB) August 03, 2016
"With up to 4 video placeholders, text and customizable social media icons ProTube Outro Vol. 2 will help channel content creators make an animated outro screen with ease," said Christina Austin - CEO of Pixel Film Studios.
ProTube Outro Volume 2 is a set of customizable outro screen templates created for Final Cut Pro X. Choose from unstylized templates with up to 4 video drop zones for pictures and videos. Freely scale and position drop zone placeholders with easy on-screen controls. Pixel Film Studio's ProTube Outro allows editors to draw viewers attention to previous and/or future videos with easy to use templates.
ProTube Outro Volume 2 features built-in social media icons to make advertising social networks easier than ever. Scale and position social media icons with a simple slider and on-screen controls respectively. Easily toggle any icon on and off with intuitive checkboxes. ProTube Outro Vol. 2 is the easiest way to create the perfect closer for FCPX video productions.
This Plugin allows users to manipulate up to 4 drop zones, 5 text boxes, and social media icons, all within Final Cut Pro X. With intuitive on-screen controls FCPX users may scale, position, and rotate ProTube Outro elements with absolute ease.
With ProTube Outro Volume 2, video editors can ditch messy picture templates and create flawless end-screens within Final Cut Pro X. Using ProTube Outro Volume 2 is simple. Drag a ProTube Outro Vol. 2 title above video footage and into the FCPX timeline. Next, stylize the text, and insert personal media into the designated drop zone areas.
Established in 2006, Aliso Viejo, California-based Pixel Film Studios is an innovative developer of visual effects tools for the post-production and broadcast community. Their products are integrated with popular non-linear editing and compositing products from Apple FCPX. Apple, the Apple logo, Mac OS X, and Macintosh are registered trademarks of Apple Inc. in the U.S. and/or other countries. All other trademarks and trade names are the property of their respective owners.