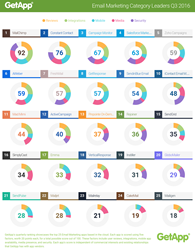 MailChimp crushed it this quarter with an overall score of 92.
Barcelona, Spain (PRWEB) August 02, 2016
GetApp's Q3 2016 ranking of the top email marketing apps has been released, and MailChimp has taken the top spot. Constant Contact followed behind in second place, while Campaign Monitor came in third place.
The Category Leader ranking provides small business owners with a first-glance look at the top email marketing solutions. Five distinct data points, worth up to 20 points each, are used to calculate the ranking, with the maximum score that an app can attain being 100. The five data points used are media presence, user reviews, app availability for iOS and Android and ratings in Google Play and the App store, security, and application integrations.
"MailChimp crushed it this quarter with an overall score of 92. This was due in no small part to perfect scores of 20 in user reviews, integrations, and media presence. Constant Contact came behind in second place with a score of 76 and showed strong scores in integrations, mobile app availability, and media presence. Rounding out the top three was Campaign Monitor which had an overall score of 67. This quarter's ranking also featured new apps such as 21st place SendPlace, while Mailrelay, CakeMail, and Maligen made up the final three spots, respectively," says Suzie Blaszkiewicz, project manager of the Category Leader rankings.
See the entire Q3 2016 ranking of the top 25 email marketing solutions here.
More about GetApp: GetApp, a Gartner company, is the leading premium business app discovery platform on the web. Headquartered in Barcelona (Spain), GetApp serves as a platform for user-generated and editorial reviews of software and apps for businesses.
###