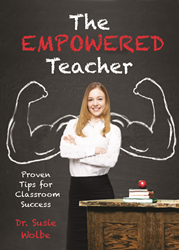 Every school has it mandated curriculum, but the schools and the teachers who go beyond the content are the ones who get to the heart of the matter and the spirit of their students.
Dallas, TX (PRWEB) August 01, 2016
Teaching requires so much more than showing up on Monday morning with a lesson plan and a smile. When it comes to positively impacting students' learning, some of the most important lessons have very little to do with teaching the designated curriculum. In The Empowered Teacher: Proven Tips for Classroom Success (Brown Books Publishing Group), Susie Wolbe, Ed.D., provides school administrators, teachers and parents with a wealth of practical tips based on years of personal experience as a parent, teacher, principal, certified Academic Language Therapist and Mindful Schools instructor.
The Empowered Teacher pushes past the curriculum and provides essential strategies that enable teachers to lower the stress level in the classroom, minimize the time spent on procedural minutia, and increase the attention given to students, which is exactly where their focus needs to be.
"It's not about the curriculum. It's about establishing positive, appropriate relationships, taking care of yourself, and growing both personally and professionally," says Wolbe. "Every school has its mandated curriculum, but the schools and the teachers who go beyond the content are the ones who get to the heart of the matter and the spirit of their students."
Wolbe believes the key to classroom success is the ability to establish a habit of self-care, and that by participating in daily mindfulness practices, the emotional state, physical health and mental abilities of teachers and students alike will be profoundly improved.
"It took me a long time to realize the importance of taking care of myself and to understand that there was nothing selfish about it," she says. "As the stewardess on the airplane says, 'put the oxygen mask on yourself before placing it on the person for whom you are responsible.' After all, if I don't put on my oxygen mask, I'll pass out ... and be of no help to anyone."
Wolbe provides a collection of practical tips that educators can put to use immediately, including: trusting in the intuition of the teacher's "inner voice," mindfulness exercises to reduce stress and discourage negativity, a five-step process to conflict resolution, careful observation to improve relationships and communication, and much more. The Empowered Teacher is based on years of classroom experience and contemporary educational research and emphasizes the importance of communication skills and self-care strategies as essential for providing a positive classroom environment from which students will benefit.
Learn more about Susie Wolbe, Ed.D., and her book, The Empowered Teacher, at http://www.DrSusieWolbe.com
Media Contact: Alicia Auping with The Agency at Brown Books, 972.248.9500, Alicia.Auping(at)TheAgencyatBB(dot)com
About The Agency at Brown Books (ABB)
As a subsidiary of Brown Books Publishing Group, The Agency at Brown Books is backed by more than 20 years of publishing excellence, leveraged in the first full-service public relations, marketing, branding and distribution provider within a publishing house. The Agency provides high-level public relations, marketing and distribution services for not only Brown Books authors, but also non-affiliated authors, all within the same house. For more information, please visit http://www.TheAgencyatBB.com.
About Brown Books Publishing Group (BBPG)
Founded by Milli Brown in 1994, Brown Books Publishing Group is a full-service, independent publisher of high-quality books across all genres. Committed to producing award-winning books for authors who choose to retain the rights to their intellectual property, Brown Books publishes more than one hundred titles a year and has won numerous prestigious awards, including the Writer's Digest Grand Prize, Mom's Choice Award, Foreword Book of the Year, Gold Ink Award, Axiom Business Book Award and many more. Brown Books authors have appeared on programs and networks such as the "Today" show, Fox News, "Face the Nation," CNN and BBC News. They have been featured in publications such as USA Today, Publishers Weekly, and The New York Times. In addition, BBPG authors have been guests on NPR programming, including "The Diane Rehm Show," "Morning Edition" and "The Takeaway." To learn more, visit http://www.BrownBooks.com and http://www.BrownBooksKids.com and http://www.BrownChristianPress.com.