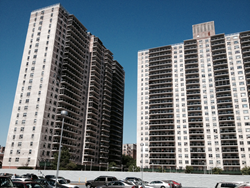 New York, NY (PRWEB) August 01, 2016
FirstService Residential, New York's leading property management firm, announced that the company was recently selected to serve as property manager for Concourse Village, Inc., a 1,872-unit housing cooperative located in the Bronx.
Concourse Village, an expansive complex encompassing six buildings, is managed by FirstService Residential's Mitchell-Lama Division, which specializes in the management of housing cooperatives that are under the jurisdiction of the New York State Homes and Community Renewal (HCR).
"We are delighted to add Concourse Village to our growing portfolio of Mitchell-Lama communities," says Dan Wurtzel, President of FirstService Residential. "The cooperative will benefit from our extensive experience and depth of resources in this arena, which includes our dedicated team of experts who are skilled in navigating the myriad federal, state and city rules and regulations associated with these affordable housing cooperatives."
About FirstService Residential
FirstService Residential is North America's largest manager of residential communities and the preferred partner of HOAs, community associations and strata corporations in the U.S. and Canada. FirstService Residential's managed communities include low-, mid- and high-rise condominiums and cooperatives, single-family homes, master-planned, lifestyle and active adult communities, and rental and commercial properties.
With an unmatched combination of deep industry experience, local market expertise and personalized attention, FirstService Residential delivers proven solutions and exceptional service that add value, enhance lifestyles and make a difference, every day, for every resident and community it manages. FirstService Residential is a subsidiary of FirstService Corporation, a North American leader in the property services sector. For more information, visit http://www.fsresidential.com.