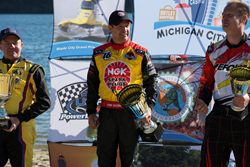 "It's stressful for the last race," said Tim. "But that speaks to the nature of this sport, to be heading into the final race tied up."
Wixom, Michigan (PRWEB) August 02, 2016
"I was wide-eyed, didn't know what to expect and the adrenaline was pumping. I was in shock and everything felt crazy, like I couldn't control my emotions," said Tim Seebold, reflecting on the thrill of the first time he raced a formula one tunnel boat. "That's one of the huge differences, after all these years, you know how to control your emotions now and how to make them work for you."
Seebold announced earlier this year that he will be retiring following the 2016 season after spending 44 years in the cockpit. The upcoming EQT Three Rivers Regatta in Pittsburgh will be his final race in the USF1 series that both Tim and his family have dominated across a 76 year span. He's been driving the number 16 NGK Spark Plugs boat for the past four seasons.
"Tim has been an excellent advocate of the NGK Spark Plugs brand during his racing tenure, representing a true dedication and passion for powerboat racing," said Mark Sprague, general manager of marketing at NGK Spark Plugs (U.S.A.), Inc. "We wish him the best heading into this pivotal weekend, with pride and support as the title sponsor of his Last Lap retirement season."
"We're looking forward to it, Pittsburgh is a rough water race and Tim's always performed well in these," said former driver Bill Seebold, Tim's father and team manager. "It's a bittersweet feeling knowing this is it. This is the last time we'll see a Seebold out there in a boat."
Tim Seebold on the podium at the Maple City Grand Prix in La Porte, Ind. after taking first place Tim won the first USF1 race of the season in La Porte, Ind. in May and finished third in both Bay City, Mich. and Valleyfield, Que., leaving him with 307 points on the season. He's tied with longtime driver Terry Rinker heading into the final USF1 race of the season.
"The Seebold's have always liked the challenge to go and have to earn it in the last race," said Bill. "We're hopeful it'll be a repeat from last year in Seattle [Seafair] where Timmy came out on top." "It's stressful for the last race," said Tim. "But that speaks to the nature of this sport, to be heading into the final race tied up. It's just as competitive now as it was 20 years ago. Our focus will be on the final race, so no matter what we've done up until now this season, this is where it counts."
Pittsburgh has a long-standing history with the USF1 powerboat series, with the first ever USF1 race being held here in 1982. The 1.25 mile course runs along the Allegheny River, under the Roberto Clemente Bridge making it the only inland regatta in the United States. "It's extremely rough, you run under one of the bridges and it's an exciting course," says Tim. "With seawalls on both sides, we'll see a lot of action on the river."
"Having Tim tied going into the championship is exciting because it's the very first site in the US to host a formula one race, so it's ironic," said Jose Mendana, Jr., president of the USF1 Powerboat Tour. "We're looking forward to a great weekend of racing in Pittsburgh." The USF1 Championship race will begin at 5:30 p.m. EST this upcoming Sunday, August 7 in downtown Pittsburgh. The race will be broadcast live so get the link and all the behind the scenes race action on Facebook through the Seebold Sports fan page.
NGK Spark Plugs – World Leader in Spark Plug and Oxygen Sensor Technology
Since 1936, NGK Spark Plugs has been the world leader in technology, innovation, and world-class quality in the design of spark plugs and oxygen sensors. Today, NGK manufactures NGK Spark Plugs and NTK Oxygen Sensors for virtually every automotive manufacturer in the world.
NGK has built a reputation for quality and reliability, and a commitment to excellence continues to be the driving force behind the company's advanced research and development programs. With state-of-the-art manufacturing, inventory, and distribution facilities, NGK is dedicated to providing customers with world-class products and services.
In addition to serving OE automotive and aftermarket customers, NGK also produces spark plugs for motorcycle, power sports, marine and small engine manufacturers. NGK also offers complementary product lines including resistor caps, spark plug wires, and high performance cables.
In North America, NGK is headquartered in Wixom, MI and maintains manufacturing, inventory, and distribution facilities in Irvine, CA, Sissonville, WV, and Chicago, IL.
Our Mission: "We improve life through the environmentally responsible manufacture and precise application of advanced ceramic technologies for all of North America. Focused on innovation and teamwork, we contribute to local and global economic growth by matching our products to our customers' visions each day, exceeding their expectations in quality, value, service and performance."
Along with NGK Spark plugs as this final tour's primary sponsorship, Tim has several secondary sponsors that he has work with throughout his long career including the following:
MarineEngine.com
CDI Electronics
Seaway Marine
SHORAI Batteries
Weldon Fuel Pumps
Pro DeZigns Graphics
C & M Concrete
MOTOMarketingGroup.com