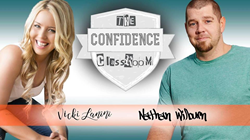 "It is a funny feeling knowing that what we are offering has the potential to change so many lives globally. We are both extremely grateful to be able to make such massive impact," - Vicki Lanini
Melbourne, Australia (PRWEB) August 03, 2016
Nathan Wilburn and Vicki Lanini, two highly motivated young leaders, have just embarked on a journey to make a positive impact on people's lives through the power of mindset. The duo intends to accomplish this objective via their newly launched business named The Confidence Classroom.
Nathan Wilburn and Vicki Lanini are pleased to announce the mega launch of their new business venture, The Confidence Classroom.
The two young and charismatic owners have started this business with the intention of supporting millions of people around the world, utilizing the power of mindset. The Confidence Classroom will help people step into their most confident selves by inspiring them to make the most out of their lives.
The Confidence Classroom has already started offering weekly mindset sessions that are targeted towards helping people solve problems related to all aspects of their lives. These sessions are free and will assist the attendees to grow and develop regardless of their current state of life. The program will also offer plenty of online events, discussions, and webinars.
The two founders of The Confidence Classroom are from the fitness industry background and they own a small factory style PT studio in the Melbourne's Eastern Suburbs. The duo looks all set to carve a niche in the global mindset coaching industry with lots of love and passion.
The co-founder of The Confidence Classroom Nathan Wilburn suffered a car accident at the age of two that left him completely paralyzed from the waist down. The doctors felt he would have to spend the rest of his life confined to his wheelchair. However, with sheer grit and determination, Nathan decided to change things around. Today, he is not only walking unassisted, but has recently climbed an active volcano in Bali.
The other co-founder of The Confidence Classroom is Vicki Lanini, a business leader that quit her comfortable full time job to become a personal trainer with no clients whatsoever. She is the proud recipient of the MP Business Person of the Year 2015 award. An outright risk taker, Vicki believes that nothing great happens in life unless one is prepared to come out of his/her comfort zone.
Expressing pleasure about the launch of The Confidence Classroom, Vicki says, "It is a funny feeling knowing that what we are offering has the potential to change so many lives globally. We are both extremely grateful to be able to make such massive impact,"
More about The Confidence Classroom and its two owners can be found at http://www.facebook.com/theconfidenceclassroom
About The Confidence Classroom: The Confidence Classroom is a just launched business that is fast becoming one of the world's leading resources for all things mindset related. Join Nathan Wilburn and Vicki Lanini, two of the most passionate and influential leaders as they grow their brand in front of the world.
Contact:
The Confidence Classroom
Website: http://www.theconfidenceclassroom.com
Email: admin(at)theconfidenceclassroom(dot)com