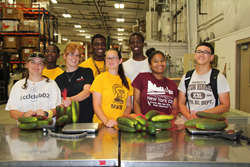 "This partnership has been a wonderful way for our students to build character and give back to others," said MHS Director of AEE Crystal Huff.
HERSHEY, Pa. (PRWEB) August 02, 2016
Milton Hershey School® student interns in the Agricultural and Environmental Education program are learning about the importance of service through a multi-faceted partnership with the Central Pennsylvania Food Bank. Thirteen students are working throughout the summer to provide fresh produce to children and families in need throughout the Harrisburg area.
"The relationship we have with Milton Hershey School is so important to the Central Pennsylvania Food Bank and our mission," said Joe Arthur, executive director of the Food Bank. "The MHS interns get out into the community to make a big difference in kids' lives, bringing with them the healthy, fresh produce they've raised and reinforcing one of our most fundamental values: that everyone deserves three healthy meals a day!"
Each week, the students and Central Pennsylvania Food Bank staff visit local community organizations to make lunches and hand out food that includes healthy options. The fresh fruits and vegetables, which total more than 100 pounds a week, are grown and harvested by students on Milton Hershey School's campus. During the visits, students help community members gain a positive perspective on healthy eating by assisting with on-site cooking demonstrations and discussing nutrition.
In addition, the students supply and operate a produce stand outside of the Food Bank's headquarters on Corey Road in Harrisburg. All proceeds from the stand are donated to the Joshua Group, a nonprofit in Harrisburg that serves academically and socially at-risk youth. The stand is open each Friday from 10 a.m. until 12:30 p.m. through August 12. Produce not sold is donated to the Food Bank to use toward the more than 10,000 meals per week it provides to hungry children.
Through the partnership, the student interns also spend time each week in the Food Bank's warehouse helping to organize and pack food boxes for needy families.
"This partnership has been a wonderful way for our students to build character and give back to others," said MHS Director of AEE Crystal Huff. "They are able to exercise their agricultural skills while developing a greater understanding of what it means to be a part of a community. It's powerful for them to see firsthand how they can make a difference in others' lives."
MHS is committed to teaching students the importance of giving back to the community. It is one of the many ways the school recognizes the generosity of founders Milton and Catherine Hershey and strives to achieve its 2020 Vision, a strategic plan to educate today's students to thrive now and in the future.
Learn more about the school's AEE program at mhskids.org.
ABOUT MILTON HERSHEY SCHOOL
Milton Hershey School® is one of the world's best private schools, offering a top-notch education and positive home life to children in pre-kindergarten through 12th grade from families of lower income at no charge.