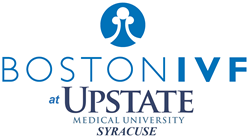 We are quite thrilled to incorporate this educational facet, which in turn will also allow us to further support our research endeavors in improving women's health services.
Syracuse, NY (PRWEB) August 04, 2016
Boston IVF and SUNY Upstate Medical University today announced a clinical partnership that will bring advanced fertility services to individuals and couples in Syracuse, New York.
Boston IVF at Upstate Medical University is slated to open in August, 2016 at the Physicians' Office Building on 725 Irving Avenue in Syracuse.
The partnership will offer convenient access to Boston IVF's world-renowned fertility experts, extensive network and pioneering reproductive technologies, which together have assisted in more than 75,000 babies born since 1986.
This new location in Syracuse will complement Boston IVF's full-service fertility center and in vitro fertilization (IVF) laboratory in Albany, New York.
"Our new partnership with SUNY Upstate Medical University has one singular goal: to improve the fertility outcomes for patients in Syracuse", said Boston IVF co-founder and reproductive endocrinologist Michael Alper, MD – who along with fellow Boston IVF reproductive endocrinologist Alan Penzias, MD will provide initial consultations, including diagnostic testing and general fertility treatments.
According to the American Society of Reproductive Medicine, 1 in 8 couples (or twelve percent of married women) have trouble getting pregnant or sustaining a pregnancy. Additionally, almost twenty-five percent of infertile couples have more than one factor that contribute towards their infertility.
"Our extensive cycle volume, treatment data and library of fertility analysis allow us to both quickly diagnose and solve difficult and rare reproductive cases that many other centers cannot handle or have never before encountered," said Alan Penzias, MD.
Boston IVF credits its extensive clinical experience and groundbreaking research as key factors that contribute toward their high fertility success rates, which are well-regarded within the industry and Central New York.
"We consider healthy, live births as the most significant indicator of fertility success. Our exceptional live birth success rates speak to that," Penzias continued.
Robert K. Silverman, MD - Professor and Chair of Obstetrics and Gynecology at SUNY Upstate Medical University, praised the new partnership, calling it a tremendous addition to the Upstate Medical community and a valuable option for its patients.
"This new partnership marks a significant gain for the SUNY Upstate campus," said Silverman.
"Each Boston IVF physician will immediately take an active role in Upstate Medical School's Residency Program, where they will teach the next generation of OB-GYNs. We are quite thrilled to incorporate this educational facet, which in turn will also allow us to further support our research endeavors in improving women's health services."
"To join forces with an exceedingly accomplished fertility network like Boston IVF, which is steeped in exceptional infertility care and innovative reproductive research is certainly great news for obstetricians, gynecologists, and most importantly - patients in the Syracuse area," he continued.
Prospective patients in Syracuse who would like to learn more about this new partnership or schedule a fertility consultation are invited to call 315.703.3050 or go to http://www.syracusefertilitycenter.com/ for additional information.
ABOUT BOSTON IVF
As one of the nation's most experienced fertility networks, Boston IVF has earned a reputation for innovative care, research and next-generation fertility-treatment options. With numerous "firsts" in the field of reproductive care and more than twenty locations throughout New England, New York, Arizona and Indiana – Boston IVF utilizes the best science and customized care to maximize patient outcomes.
ABOUT UPSTATE MEDICAL UNIVERSITY
SUNY Upstate Medical University in Syracuse, NY, is the only academic medical center in Central New York. Affiliated with the State University of New York, Upstate's mission is to improve the health of the community through education, biomedical research and health care. It remains a key global resource for research that improves understanding of health and disease.