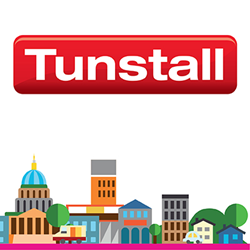 Long Island City, NY (PRWEB) August 02, 2016
Tunstall Americas, the North American division of Tunstall Healthcare Group – a world leader in Connected Healthcare – has introduced its next generation telecare solution, the Tunstall Vi+ to the U.S. market. The new solution builds on the success of Tunstall Americas market-leading products and solutions.
The Vi+ enables personalized care and risk management for seniors and other at risk populations to live independently at home for as long as possible. The Vi+ is a market leading product throughout the world and is now available in the US. With its comprehensive range of sensors, the Vi+ can monitor home environments unobtrusively for high risk events, out of pattern activities and potential emergencies. If a problem is detected, the unit will automatically generate a call to Tunstall's Emergency Response Center so that the appropriate response can be quickly taken.
The Vi+'s advanced design and features were developed from listening and responding to our customers' insights and feedback. The Vi+ has an integral ambient temperature sensor which will alert Tunstall's Response Center if an unsafe high or low temperature is detected, helping to ensure that a comfortable, safe temperature is maintained in a person's home. The unit's enhanced Virtual Sensor functionality – a Tunstall market first –enables a proactive, intelligent response to any alerts raised by telecare sensors in the home. For example, if a person gets out of bed in the middle of the night and doesn't return in a pre-set time interval, the unit can interrogate other sensors in the home to establish if the person is simply making a hot drink, or if they may have fallen and need urgent help.
Casey Pittock, President and CEO of Tunstall Americas stated, "Tunstall entered the US market with the acquisition of American Medical Alert Corp (AMAC) in 2012. Since that time we have introduced many Tunstall products to the market such as the original Vi and CEL personal emergency response systems. Introducing the Vi+ to the US market is pivotal in that it will change the landscape of the Personal Emergency Response service from medical alert "box" to a Connected Care solution that has a range of products and services that will support caregivers and end users and enable them to live more fulfilling lives at home and on the move.
Tunstall Americas provides nationwide 24/7 healthcare monitoring services from HIPAA compliant call centers in New York and Rhode Island. Tunstall also manufactures a wide variety of FDA registered medical alert, telehealth, and medication management products to meet the needs of all people. These products enable personal support services through traditional telephone lines, cellular, and the internet. Collectively, these products and services deliver a seamless connected care experience for people.
About Tunstall:
Tunstall Healthcare Group, founded in 1957 in England, is the world leader and supplier of Connected Health and Connected Care products and services. Tunstall helps people during emergencies and crisis situations 24/7/365 from dozens of company-owned and operated monitoring centers around the globe. Tunstall connects, talks with, and informs people with in-home technology and services that enhance their independence, freedom, social engagement, health, and wellbeing. Tunstall serves more than 3.5 million people every day in 40 countries.
Tunstall Americas (http://www.americas.tunstall.com ) operates Connected Care monitoring centers in Long Island City, NY, and Pawtucket, RI to deliver high-touch personal patient support services 24/7 to customers in all 50 states.