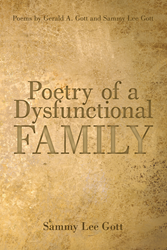 It is as if the anger and resentment they carry is a ticking time bomb that is ready to go off at any moment
Georgetown, TX (PRWEB) August 03, 2016
It is not always easy to find the courage to turn your thoughts into composed spoken words. Instead, Sammy Lee Gott found his voice through poetry.
Gott and his three brothers were abused by their alcoholic parents, and especially by their mother. He carried the pain and anger of this abuse with him well into his adult life. Gott's Poetry of a Dysfunctional Family is a compilation of his life's narrative and poetry.
"The effects of abuse and lack of love as a child last far into the future, affecting the individual's ability to have relationships with others," Gott said. "It is as if the anger and resentment they carry is a ticking time bomb that is ready to go off at any moment."
It was the unconditional love Gott received from his wife, Jan, which led him to the path of healing. This is when he learned that by accepting God's love and forgiveness, he was able to forgive his abusers. This forgiveness allowed him to finally take the heavy weight of anger off of his shoulders.
Poetry of a Dysfunctional Family began as a way to allow Gott's children to learn more about their father. As he continued to write, Gott realized how many individuals he would have the ability to help by sharing his story. The poetry Gott and his brother, Gerald, wrote helped them to heal, and the hope is that it will allow others to do the same.
"I remember waking up mad at everyone and everything, unable to realize that the anger I felt was actually toward my parents and their abuse," said Gott. "Once I was able to realize that something was wrong and sought help, I was able to start my journey to move past the abuse."
For more information, visit sammyleegott.com.
Poetry of a Dysfunctional Family
By Sammy Lee Gott
ISBN: 978-1-4834-4539-7
Available in softcover, hardcover, e-book
Available on Amazon, Barnes & Noble and LULU Publishing
About the author
Sammy Lee Gott joined the military during the Vietnam War and served for eight years, an experience that was instrumental in forming his character, work ethic, and appreciation for education. He currently lives in Georgetown, Texas with his second wife Janet and their four children.
# # #
**FOR IMMEDIATE RELEASE**
For review copies or interview requests, contact:
Liz Vinson
lvinson(at)bohlsengroup(dot)com
812.641.5194