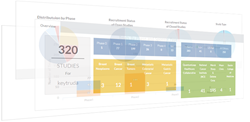 TrialsFind PRO offers a much deeper and richer user experience, in a subscription-based model for clinical trial data analysts
OCEANSIDE CA (PRWEB) August 03, 2016
FST announced the launch of TrialsFind PRO, the first and only automation technology for clinical trials intelligence. TrialsFind PRO analyzes, and charts ClinicalTrials.gov information in real-time, and is now available by subscription at http://www.TrialsFind.com.
"Since founding FST in February, we've been working at light-speed to bring real-time data analytics and charting solutions to previously intractable data sets. We're delighted to offer "TrialsFind PRO" (http://www.trialsfind.com), a state-of-the-art analytical tool designed to ease the burden of the more than 65,000 people who visit ClinicalTrials.gov every day", said John Gram, CEO of FST. We offer, a much deeper and richer user experience, with a subscription-based model for clinical trial data analysts". Gram stated.
"We launched our free (and still available) version of TrialsFind.com at the American Society of Clinical Oncology (ASCO) meeting in Chicago this year, and we'd like to thank the 400+ current users for signing up. Now, with TrialsFind PRO, we hope to bring value to professionals and analysts everywhere who rely on ClinicalTrials.gov for clinical trial analysis,"
About TrialsFind PRO:
TrialsFind PRO is the first real-world data mining and machine learning application applied to ClinicalTrials.gov. It is the the most intuitive, and fastest system developed to date for gathering real-time knowledge about clinical trials. TrialsFind PRO does not simply aggregate the clinical trials information, it also provides deep insights in a well-organized and thoughtful manner.
Designed by analysts for analysts, TrialsFind PRO is for anyone who values an intuitive user interface combined with an unparalleled depth of analysis, accuracy, and freshness of clinical trials information. TrialsFind PRO is the first tool of its kind in the clinical trials space and is offered as a web-enabled service available 24 X 7 over the internet. It works on all devices; computers, tablets, and mobile phones and is available as a yearly subscription at an introductory price of $999.
About TrialsFind.com.
TrialsFind.com is a service of FST, a forward thinking technology company. FST is a global collaboration of top industry analysts and software developers whose mission is to build technology solutions that make the daily lives of our users easier.