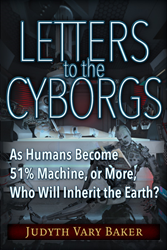 Walterville, OR (PRWEB) August 03, 2016
In her previous books, Judyth Vary Baker has taken us back to the death of John F. Kennedy and the life and times of David Ferrie, who inhabited the miasma of a successful assassination conspiracy.
In Letters to the Cyborgs, Judyth uses her scientific training and knowledge to take us into the future with the now. Using cutting-edge science and metaphysical imagination, Judyth has crafted a series of stories intended to provoke thought, stimulate remembrances; she works the vista of science fiction like an electric organ with no stops down, except when she wishes.
From her chapter "The Religion Solution": "Considering that he was only 51% Cyborg himself, Archie realized that he had better watch what he said. The jokes he had prepared about humans suddenly seemed inappropriate, perhaps even dangerous, should they offend her. Not only that, but he could see that she also carried a MediaBot on her shoulder. She was likely there to check on how he conducted his tour."
She leaps from brain-received commercial ads to demi-gods and cyber-ruled societies attempting to make the perfect life; without, of course, the unwanted, or the non-co-operative natural and unnatural beings who refuse to go away.
Included is, like a monumental apostrophe, "Her Way," the only extended writing by Lee Harvey Oswald; 18 pages. Here is the fantastical and whimsical working of a mind dismissed by the official investigation as an embittered loner with no real life. Judyth edited the story for Lee at the time, let it go for many years, and here it is.
Science, politics, sociology, spirituality, and creative wonderment are all in Letters to the Cyborgs.
Book Giveaway for Letters from the Cyborgs, at Goodreads