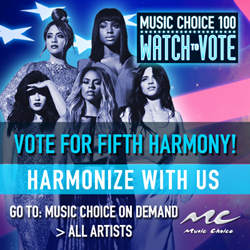 New York, NY (PRWEB) August 01, 2016
Music Choice, the #1 free On Demand music provider on television, is expanding its year end tentpole - Music Choice 100 - by giving viewers the power to impact the biggest music video countdown of 2016!
The Music Choice 100 features the top performing music videos of the year based off views from October 2015 - October 2016 across Music Choice On Demand, musicchoice.com and on the app as determined by ComScore/Rentrak. Fans will be able to vote for this year's biggest hits from today's hottest artists like Drake, Justin Bieber, Bryson Tiller, Kevin Gates, iLoveMemphis, Fifth Harmony, Rihanna and more!
With two months left to go, Music Choice is launching a "Watch to Vote" campaign that kicks off today, encouraging fans to "vote" for their favorite artists to make the list. The more views an artist video receives, the better their chances are of making the countdown. Go to: Music Choice On Demand>All Artists
Music Choice 100 featuring Nick Jonas: https://youtu.be/NGMT8e9IERo
Music Choice 100 Latino featuring J Balvin (in Spanish) : https://youtu.be/9eWrHlM6llU
For more information on Music Choice 100, please visit http://bit.ly/2016MC100.