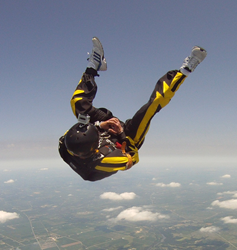 Ottawa, Illinois (PRWEB) August 09, 2016
Nationally recognized escape artist and Christian Evangelist Anthony Martin has announced plans to attempt a daring low altitude handcuff jump, August 12, 2016 at 2:00 P.M. in Ottawa, Illinois. The escape artist will be handcuffed by an Illinois State Police Officer (retired) before donning a parachute and leaping from an aircraft at 8,500 feet. He will have to free his hands in order to deploy the parachute and save his life. Martin, an escape artist who has been featured five times in Ripley's Believe It Or Not has reserved August 13 at 8:00 A.M. as a rain date should weather conditions prohibit the attempt.
Martin who turned 50 this year has subtracted 100 feet for every year of life from his normal jump altitude of 13,500 feet. This will be the lowest handcuffed jump he has ever attempted. At this altitude a mere 30 seconds stands between him and eternity.
The handcuffs for the escape attempt will be supplied by an Arizona locksmith and verified to be legitimate and unaltered before the leap. The escape is being made possible by the sponsorship of Skydive Chicago, who will both prepare the escape artist and film the attempt at their skydiving facility located at 3215 E 1969th Road in Ottawa, Illinois.
The film of the stunt will be shown at the escape artists evangelistic outreaches.
Aerial escapes have been a signature stunt for Martin who escaped from a locked box thrown from an airplane in 2013 as well as a similar handcuffed jump over the Snake River Canyon for the Discovery Channel.
The escape artist, who was featured this year In Ripley's Believe It or Not Special Edition 2016 is the author of the book "Escape or Die" An escape artist unlocks the secret to cheating death published by Genesis Publishing Group (July 1,2013).
###
For more information please visit these helpful websites: http://www.anthony-escapes.com or http://www.skydivechicago.com.