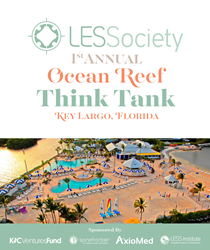 We all consume healthcare. Investing in healthcare makes us owners of what we consume
(PRWEB) August 02, 2016
The Less Exposure Surgery Society is eagerly awaiting the first annual LES Society Business Symposium, which will be held in Key Largo, Florida from August 12-14. This think tank will be an educational course & networking event for fellows and surgeons. Here are five things you need know as the event draws closer.
1. Taking ownership of healthcare
"We all consume healthcare. Investing in healthcare makes us owners of what we consume," says LES Society Founder Dr. Kingsley Chin. This conference will feature discussion of our evolving healthcare system and how surgeons and business alike are adapting to innovate the healthcare field, including total motion restoration and AxioMed, a revolutionary next-generation disc replacement manufacturer.
2. LES Society offers a well-rounded, lifelong learning experience to spine surgeons
The LES Society brings together the leading innovators in LES spine and orthopedic surgery with some of the brightest minds in the business world. The recent hiring of Dr. Patrick Tyrance as Director of Public Policy and Advocacy, a renowned orthopedic surgeon who is also a former professional football player and MBA holder, speaks to this fact. The LES Society is excited to combine business and clinical education in a family-friendly environment in Key Largo. This event is valuable for fellows and surgeons of all levels of expertise.
3. Using the past to predict the future
The conference will feature guest lecturer Aditya Humad, Managing Partner and CFO of KICVentures Fund. His talk, entitled "A Ten-Year History: An Approach to Investing in Health and Technology" will focus on creating long-term value by diversifying with healthcare and technology investments. "Private investments with solid growth opportunities are not easily accessible to individual investors who are more apt to stay within traditional 401k and residential real estate. The healthcare market is poised for technology disruption and we have spent the last ten years positioning ourselves to be on the frontline and hope investors will diversify with us." Says Humad.
4. Increased efficacy of Less Exposure Surgery techniques in outpatient procedures
This think tank will feature a number of technique evaluations and case studies of outpatient procedures performed using the LES technique. Some of the leading surgeons in the field will be coming together to identify variations on techniques that are successful as well as those that may need some improvement. This conference will provide a forum for discussion to advance the LES technique.
5. Dr. Kingsley R. Chin's Keynote address
Dr. Chin will close out the conference with his keynote address: "The 'New Surgeon' and Future Private Practice Model." Dr. Chin will discuss his professorships and many philanthropic activities to illustrate that a surgeon in the 21st century must do more than just perform surgeries. In addition, Dr. Chin will discuss the pivot of private practices from inpatient hospital procedures to outpatient procedures performed at specialized facilities.
The LES Society Business Symposium will provide a unique forum for new ideas in business and healthcare to be shared and discussed. The open and collaborative atmosphere will serve as an effective incubator for the formation of new ideas and partnerships that will help shape the world of healthcare for the future.
KICVentures Fund is focused on de novo investments, acquisitions and follow-ons in existing assets that it manages within the areas of healthcare and technology.