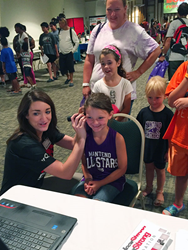 Hearing loss is becoming a more prevalent issue for children and teens, and it's essential they receive appropriate care and treatment. -Ed Keller, President of EarQ
Chicago, Illinois (PRWEB) August 03, 2016
On July 30, students and their families gathered at the Olivet Nazarene University campus in Bourbonnais, IL, to receive necessary healthcare services and address any health issues before the students return to school in the fall. The event is sponsored by Bears Care and Catholic Charities and extends to families of Kankakee, Will, and Dupage counties.
The health fair is a collaborative effort by organizations passionate about making a difference in the lives of disadvantaged children and their families. Through the event, attendees have access to hearing and dental services, physicals, nutritional information, child development education, financial support, school supplies, and more.
For the fourth consecutive year, the EarQ team, including representatives from Loyola University Medical Center and the Chicago Hearing Society have provided free hearing screenings performed necessary cleanings, and addressed additional hearing health concerns. To date, EarQ members have tested over 400 students and family members.
"Hearing loss is becoming a more prevalent issue for children and teens, and it's essential they receive appropriate care and treatment," said Ed Keller, President of EarQ. "Events such as this Back-to-School fair allow us to provide children with healthcare services, as well as the education they need to make hearing health a priority in their lives."
About EarQ:
A prestigious nationwide network of independent hearing healthcare providers, EarQ utilizes innovative business and marketing practices as well as national public awareness efforts to advocate for excellence in the industry and patient care. Through its 1,400 hearing healthcare provider locations nationwide, EarQ helps provide greater access to quality hearing healthcare services and products.
About Bears Care:
The Chicago Bears have a longstanding tradition of supporting numerous charities and assisting those in need. Bears Care was incorporated in 2005 as a 501(c)3 organization committed to improving the quality of life for people in the Chicagoland community, especially disadvantaged children and their families, through targeted programs supporting education, youth athletics and medical research and health awareness programs focusing on breast and ovarian cancer. Since that time, Bears Care has issued grants totaling over $13.8 million to over 100 qualifying agencies.