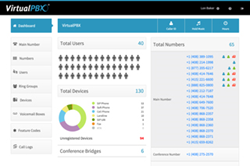 "We obviously are honored by all the praise that Dash has garnered in such a short period, but we wouldn't want people to just take our words for it. Now with Dash's free trial, they don't have to."
San Jose, California (PRWEB) August 02, 2016
Following the introduction of the first truly user-oriented and friendly VoIP platform, Dash, VirtualPBX once again introduces positive change to telecommunications. Beginning today, VirtualPBX is offering its award-winning Dash hosted PBX phone system for businesses for up to two weeks for no cost.
"We built Dash to be the ultimate system for business because we built it from the data we got from our customers, their use habits, needs, and feedback," said Lon Baker, VirtualPBX COO. "Now that Dash has been recognized as the wonderful product that it is, this free trial period will help more people try it out for themselves."
Companies will now be able to use Dash for up to 300 minutes of call time or 2 weeks, whichever comes first, and they can add as many users as they want during their trial period. This generous offering allows for literally everyone in the company to get the opportunity to log into the system, create their extension or profile information, and provide actionable, valuable feedback on the quality of the interface.
In addition to not capping the number of users who can be introduced into the free trial of Dash, VirtualPBX isn't limiting the feature set that comes with the trial. Dash trial users can expect to have full access to the entire suite of robust features that comes with paid subscriptions to the service. Dash's trial and its substantial allowances will be the definitive experience for companies vetting their communications options.
With a no-strings-attached and limitless amount of input from a company's stakeholders, the trial for Dash allows IT decision-makers to have unprecedented insight into deciding on a hosted telecommunications service provider.
"We obviously are honored by all the praise that Dash has garnered in such a short period, but we wouldn't want people to just take our words for it," added Baker. "Now with Dash's free trial, they don't have to."
About VirtualPBX
VirtualPBX was founded in San Francisco in 1997 and brought some of the first commercially available hosted PBX service to market for small business owners. Born from the advent of the hosted telecom industry and driven by the innovative vision of its founders, VirtualPBX continues to deliver leading edge telephony products for business. Backed by award-winning, local, in-house support teams, VirtualPBX offers an array of services including disaster recovery, network monitoring and optimization, and professional system management.
VirtualPBX Contact
Rachel Anderson
Director of Marketing
888.825.0800 Ext. 339
Rachel.Anderson(at)VirtualPBX(dot)com