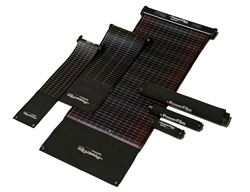 Ames, Iowa (PRWEB) August 02, 2016
More than 9 out of 10 U.S. consumers own a cell phone. For some, being connected at all times but running low on power can lead to high levels of anxiety which experts call "Nomophobia" – the fear of being out of contact without a cell phone. This term includes forgetting or losing the phone, or running out of battery power with no means to recharge.
PowerFilm will unveil its 2017 LightSaver™ line of solar chargers at Outdoor Retailer Show, Aug. 3-6 in Salt Lake City, Utah. The LightSaver line provides a unique, viable solution for Nomophobia with three solar power chargers that combine military-grade advanced solar panels with an integrated high capacity Li-Ion battery.
The LightSaver line is the ideal solution and picks up where others leave off:

Reliable solar power to charge a high-capacity, integrated battery in nearly any sunny environment including days with less than optimal conditions
Durable, military-grade design and materials take on the rigors of outdoor use including dropping, bending, even puncture, and continue to work effectively.
Lightweight & Compact form-factor allows for taking along to charge during a hike, with the ability to roll up for compact storage.
The flagship of the line is the LightSaver M-2 (MSRP: $149.99) which weighs less than 5 oz., with built in 3200mAh battery. The Li-Ion battery can be charged from empty to full in a day worth of sunshine (6-8 hours).
The smaller LightSaver Pocket (MSRP: $99.99) is about the size of a screwdriver handle with a 2600mAh battery, enough to charge most smartphones at least one time. It will charge itself in approximately 10-12 hours of full sun.
The LightSaver Max is the powerhouse of the line. With a gigantic 15,600mAh battery capacity, the unit can charge portable electronic devices and charge itself in about a day worth of sunshine (6-8 hours). Weighing only 24 oz., the Max has two fast-charge (2.5 Amp) USB outputs to charge multiple devices and also features a 12V output for charging a laptop computer.
All products in the LightSaver line are designed to work with devices that charge via USB such as Cell Phones, Tablets and Action Cams. A significant engineering effort was made to optimize the power into the battery as well as the power out, allowing more than 80 percent efficiency of battery capacity (compared to standard battery chargers which can be as low as 50 percent efficient). In contrast to battery banks, the LightSaver line can charge anywhere under the sun, without ever having to plug into a wall outlet. If desired, they can also be charged from a wall outlet. When not in use, LightSaver's flexible solar panel material can be rolled up for compact storage.
With more than three decades of experience producing high-quality products for the military and business-to-business markets, PowerFilm is set to extend its market-leading expertise into the consumer arena with the launch of the LightSaver line of products, beginning Fall 2016. The LightSaver line gives consumers access to PowerFilm's, unique solar technology that has historically been available only to those in the business and military markets.
For a preview of the new LightSaver line and other PowerFilm products, stop by PowerFilm's booth (#BR-510) at the upcoming Outdoor Retailer Show in Salt Lake City, UT, August 3 - 6, 2016.
To schedule an appointment to meet with a PowerFilm representative, call 515-292-7606 (Ext. 116).
About PowerFilm®
PowerFilm, Inc. is a leading developer and manufacturer of durable, thin film, flexible solar panels based on a unique production process. PowerFilm's objective is the creation of best-in-class remote and portable power solutions for the business, military and consumer markets. PowerFilm is based in Ames, Iowa, United States.
PowerFilm was founded in 1988 by Dr. Frank Jeffrey and Dr. Derrick Grimmer, with a combined 65 years of experience in semiconductor and solar energy research and development.