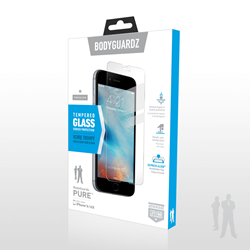 Our enhanced Advantage Program is hands down the best on the market because of its unmatched price, and our uncompromising commitment to quality.
LEHI, UT (PRWEB) August 04, 2016
BodyGuardz®, the ultimate in device protection dramatically enhanced its customer Advantage Program with lifetime screen protector replacements at the cost of shipping.
"We strive to be a special kind of company that truly puts its customers first," said Kirk Feller, CEO of BGZ brands. "Our enhanced Advantage Program is hands down the best on the market because of its unmatched price, and our uncompromising commitment to quality."
Proudly, each of the company's leading products is covered under the new program, including the best tempered glass screen protection on the market, BodyGuardz PureTM. Built upon the foundation of ion-strengthened glass, Pure is meticulously crafted in a 15-stage hardening and refinement process. This attention to detail results in a product that's 8X stronger than other glass solutions on the market.
BodyGuardz' mobile accessories paired with the Advantage Program delivers the best-of-the-best in price and quality. Now, in the ever-expanding digital marketplace, premium device protection is vital, as research indicates that:

90 percent of U.S. households have three or more "internet connected" devices
89 percent of households with children currently have multiple damaged mobile devices
70 percent of elementary school aged children own a tablet or phone
55 percent of device breakage is the result of drops
On average, families spend more than $900 annually for cellular service, while a fifth of all households spend more than $1,400. A sizable technology investment such as this, is routinely compounded as a result of accidental device breakage, which saw the cost to repair or replace exceed $11 billion.
As part of the company's mission to always provide the best possible support to its customers, through piece of mind and financial relief, the BodyGuardz Advantage program includes:
$5.95 replacement screen protectors; equaling the cost of shipping*
20 percent lifetime discount on all future BodyGuardz, Lander and MOXYO purchases**
30-day customer satisfaction money back guarantee
The new BodyGuardz Advantage Program reduces the price of replacement by as much as 80-percent***. For more information on the BodyGuardz Advantage Program, visit: http://www.BodyGuardz.com.
About BodyGuardz®
Founded in 2002, BodyGuardz is committed to offering top-quality products and services at competitive prices. The company prides itself in providing products, service and delivery that customers notice as a step above the rest. BodyGuardz designs reliable mobile device accessories that keep up with today's active lifestyles. Learn more about BodyGuardz by visiting http://www.bodyguardz.com
About Parent Company BGZ brands™
BGZ brands' mission is to enhance our customers' lifestyles through branded products and services of elevated value and quality. Formerly known as BodyGuardz, BGZ brands has become the powerhouse parent company of three distinct consumer electronic accessory brands, including BodyGuardz®, a leading device protection company; Lander™, expedition-inspired accessories for the explorer in all of us; and MOXYO™, modern accessories for the masses. For more information, visit http://www.bgzbrands.com
(*) Reference original purchase, and return broken screen protector within 60 days, or be charged full price. No need to pre-register.
(**) Log-in to BodyGuardz account to access lifetime discount (also valid for Lander and MOXYO).
(***) Cost savings respective to replacement on iPad Pro 12.7 BodyGuardz Pure.