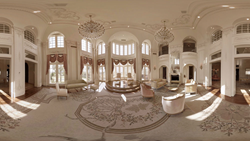 With such technological advancements, the world has transformed into its own canvas where the user holds the paintbrush.
Dallas, TX (PRWEB) August 01, 2016
A multi-disciplined digital marketing agency has announced a new expansion in services to show the way in Dallas: augmented and virtual reality. The engineers and creatives at Bold Digital Marketing have recognized that marketing for influential brands is no longer a passive experience.
"With such technological advancements, the world has transformed into its own canvas where the user holds the paintbrush," says Jeremiah McClure, Co-Founder and Managing Director of Bold Digital Marketing.
Bold is now able to insert augmented and virtual reality into the center of marketing plans for all types and sizes of businesses. Using new technological advances, they focus on merging real life instances with the power of the digital sphere for companies who seek to enhance their marketing strategies.
Just one example is Scouting Owl, Bold's new 360° virtual reality process for the real estate market. Scouting Owl creates interactive solutions for agents and potential buyers to view properties from the comfort of their home or office, without ever leaving their seat. What does this mean for businesses? Emergent technologies are changing the field of marketing significantly, and now brands are able to interact with customers in ways that were only imagined in science fiction just a few short years ago.
Augmented vs. Virtual Reality: What exactly is the difference between the two?
Augmented reality can be considered a comfortable marriage between the tangible world and the world beyond. This new strategy involves overlaying text, images or videos on top of real-life objects in order to "augment" the viewer's immediate visual experience.
Most recently, Bold has been working on a brand new augmented reality app that gives shoppers who are browsing through a catalog, or even in-store, the opportunity to see what a piece of furniture would look like, to scale, in their own living environment with their existing decor. This new app from Bold holds some functional similarity to the current Internet sensation Pokemon Go—an augmented reality app that reimagines the original game created in mid '90s. The same concept can be expanded to retail stores through the use of Bluetooth beacons. Instead of having simple messages when shoppers approach, imagine the conversion rate if you could show an augmented reality video or spokesperson describing the product or explaining why they need it.
Bold Digital Marketing is revolutionizing this concept with an augmented reality app that utilizes beacons in a retail space in order to provide targeted ads to a user's smartphone that are triggered when a user is within a certain physical range and points their smartphone at a specified end-cap or store display. This service will allow brands to interact with potential customers via location-based targeting.
While augmented reality overlays digital content on top of existing reality, virtual reality is a computer-generated 3D experience that replaces the environment around you completely. Augmented Reality allows you to interact with new digital elements in your existing setting, while Virtual Reality can immerse you in a completely different sensory environment.
Bold's mission is to use these state-of-the-art technologies to create new opportunities for the future of digital marketing. At their core, both Augmented and Virtual Reality bridge the gap between the physical and digital worlds. Essentially, Bold is now creating a different type of conversation for what the future of the marketing world will include.
A study conducted by techcrunch.com states that by 2020, these two industries are expected to bring in $150 billion in revenue.
About Bold Digital Marketing:
Located in Dallas, TX, Bold Digital Marketing is a technology-driven agency specializing in delivering B2B marketing solutions. Their team consists of a diverse group of specialists that form turnkey solutions for businesses that seek professional marketing assistance. They provide innovative, engaging, ROI-focused and cost-effective mobile and web communication programs. They proudly serve businesses of all sizes across the nation. For more information visit their website at bolddigitalmarketing.com