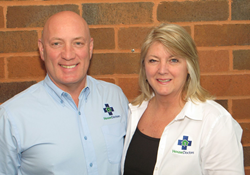 Our focus is on the honey-do list. We take care of all your small jobs so you can get back to enjoying your weekend and, if what you need is something we can't do, we'll refer you to someone more specialized who can help.
Charleston, SC (PRWEB) August 02, 2016
When Jack and Annette Ross opened House Doctors of Charleston, it was because they wanted to own a business that made lives easier for the people in their community. Now, after a year of chasing the dream, the Ross family is proud to announce that they're celebrating their one year business anniversary this August.
House Doctors of Charleston offers professional handyman services in Charleston, James Island, Folly Island, Johns Island, Sullivan's Island, Hanahan, Morris Island, Isle of Palms, Mt. Pleasant and Summerville. The team at House Doctors is focused on professionalism, service excellence and quality workmanship. Their goal is to make home improvements easier for their customers by being on time, doing the job right and offering a one year workmanship guarantee.
"We launched House Doctors of Charleston on August 15, 2015, and it was the fulfillment of a life-long dream. I spent my career in new home building and commercial building management but Annette and I both really wanted to open our own business. Once we decided it was time to pursue that dream, we realized House Doctors was something in our wheelhouse that would make a positive impact on our community," Jack said. "It was really a perfect fit."
Of course the Ross family had the same struggles all new businesses have – but they also had 8 inches of water in their brand new office in Hanahan. Just a month after they opened, the Charleston area received so much rain in one day that it broke the long-standing 1940 record and flooded the business.
"We were just getting started and we had to empty our entire office, get the water out, dry all the furniture and get things back together. It was extremely upsetting to say the least, especially when you're a brand new business, but we came together as a team and got through it. It was a crazy start!" Annette said.
House Doctors' experienced, insured, background checked and uniformed handymen technicians specialize in projects that take two hours to two days to complete, such as light remodeling and repairs of decks, doors, bathrooms and kitchens; repairing drywall; painting; exterior repairs; making home modifications and much more. Jack said the most popular services in the Charleston community over the last year have been door replacements, drywall repair and custom projects like shutter hanging and deck screening.
"Our focus is on the honey-do list. We take care of all your small jobs so you can get back to enjoying your weekend and, if what you need is something we can't do, we'll refer you to someone more specialized who can help," Annette said.
Jack and Annette agreed that House Doctors of Charleston is different because it's a company that's focused on building customer relationships – not just doing one job and getting paid – which means they have to operate on a higher level when it comes to customer service and satisfaction.
"We hold ourselves to the highest standard and we are licensed, bonded and insured. We stand behind our work and are more than happy to share our credentials with anyone because we know there are other companies out there who aren't keeping the clients' best interests in mind. We operate a higher caliber business and we want our integrity, honesty and professionalism to come through in everything we do," Jack said.
House Doctors of Charleston has also become a go-to resource for realtors who are looking to get properties ready to sell and those who have a home inspection repair list that needs done quickly and professionally. In addition to their business anniversary, Jack and Annette, who were high school sweethearts, are getting ready to celebrate their 30th wedding anniversary.
To learn more about House Doctors of Charleston, call (843)212-5444, email HD534(at)housedoctors(dot)com or visit http://www.housedoctors.com/handyman-charleston.
About House Doctors
House Doctors Handyman Service has been helping homeowners across the United States with home repair and light remodeling projects for more than 20 years. Our friendly, insured and bonded craftsmen are scheduled to be there on time and are committed to complete customer satisfaction. Each of our technicians are experienced in home maintenance, product installations and a variety of home improvements. We're so confident in our team and products that every job we perform comes with a one-year guarantee.