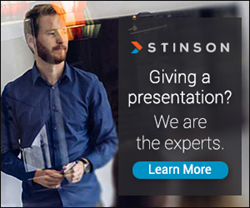 How do we create presentations that make a real difference? It's combining storyboard, content, visualization, and marketing insights to develop powerful presentations.
Toronto, CA (PRWEB) September 02, 2016
Professional presentation design agency, Stinson Design, recently launched a blog for website visitors and interested readers.
The blog's focus is to provide compelling PowerPoint presentation tips for individuals and businesses to consider when creating and delivering presentations.
The recommendations provided by Stinson Design cover all aspects of PowerPoint development, from brainstorming to presenting. For the novice presenter or an experienced professional, the PowerPoint tips are useful and relevant to anyone looking to deliver their next big presentation.
Presentations are one of the most effective ways to communicate information in the business world. They gather people in one environment and allow the audience to focus on the presenter who can provide information, answer questions, and receive feedback. The importance of these presentations, which convey important messages to key audiences, suggests an opportunity to learn more about best practices.
PowerPoint can be used for a variety of purposes and presentation needs, from teaching classes to delivering keynote speeches. Startups often use PowerPoint for fundraising pitches, and sales professionals choose PowerPoint to share company statistics with clients. However, when it comes to this primary tool used by most corporations and industry professionals for over 30 years, many of the vast software capabilities are not applied. Lack of expertise often results in dated and static decks that have yet to reach their full potential.
As a result, many search for professional expertise in the creation of PowerPoint presentations. That's where Stinson Design—located in Toronto, Canada—plays an important role in this specialized field. With a wide variety of client services such as designing new presentations from a blank slate, reimaging existing presentations, building branded templates, integrating video and animations, copywriting, and creating custom graphics, there are unlimited possibilities for how Stinson can help.
Most importantly, every project is customized to meet specific client objectives and the needs of targeted audiences. Throughout each step of the project timeline, Stinson offers assistance to ensure optimum outcomes for presenters. Taking the time to work closely with each client ensures all presentation aspects are discussed, analyzed, and strategically executed.
Stinson's newly launched blog reflects their experience and portfolio of work. No presentation is too small or too large for this accomplished design agency. The people at Stinson understand the importance of every presentation. The clients who seek their presentation services receive excellent customer service and top-tier technical assistance. Stinson's premium work speaks to professional quality and design creativity. Check out Stinson Design's design blog for inspiration today!