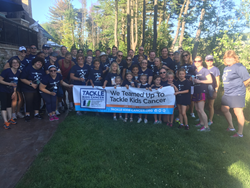 WEST ORANGE, N.J. (PRWEB) August 01, 2016
A team of more than 80 people, organized by Greenberg Traurig, LLP's New Jersey office, participated in the New Jersey 5K Corporate FunRun July 26, which raised money for Tackle Kids Cancer in West Orange, New Jersey.
"Greenberg Traurig is committed to the communities where we live and work" said Kristine J. Feher, Labor & Employment Practice shareholder in the firm's New Jersey office. "We are proud to sponsor the New Jersey Corporate FunRun and Tackle Kids Cancer, which raises critical funds and awareness for pediatric cancer research."
During an awards ceremony after the race, the firm was recognized for having the largest team with 83 overall participants. In addition, New Jersey shareholder William Stroever, won the men's category and the overall race, and New Jersey shareholders Barry Schindler, William Stroever, and David Freylikhman won honors for the top men's team.
Tackle Kids Cancer is an initiative started by The Children's Cancer Institute at Hackensack University Medical Center. Donations to Tackle Kids Cancer benefit the essential clinical care, unique support services, and groundbreaking cancer research needed to find a cure.
Corporate FunRun is hosting 10 events in multiple locations. For additional information about Greenberg Traurig's participation in the Corporate FunRun as well as pictures, follow the firm's FunRun hashtag on Twitter and Instagram at #GT5K4kids.
About Greenberg Traurig's New Jersey Office
Greenberg Traurig's New Jersey office has grown to more than 70 attorneys since its founding in 2002. The office's experienced litigators provide advice and representation in virtually every area of litigation, including class actions, complex commercial and construction cases and white collar criminal defense. The corporate and financial services attorneys, whose clients include numerous major commercial banks and finance companies in the New York/New Jersey area, handle a wide variety of matters, including sophisticated loan transactions and workouts, mergers and acquisitions, and business reorganizations and restructurings. Greenberg Traurig's New Jersey office also has a robust IP and patent prosecution practice. Other areas of practice include labor and employment, real estate, immigration, franchise law, tax, trusts and estates, and energy and infrastructure.
About Greenberg Traurig, LLP
Greenberg Traurig, LLP is an international, multi-practice law firm with approximately 1,900 attorneys serving clients from 38 offices in the United States, Latin America, Europe, Asia, and the Middle East. The firm is No. 1 on the 2015 Law360 Most Charitable Firms list, third largest in the U.S. on the 2015 Law360 400, Top 20 on the 2015 Am Law Global 100, and among the 2015 BTI Brand Elite. More information at: http://www.gtlaw.com.