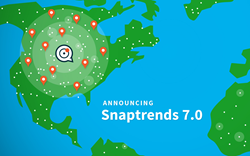 Snaptrends 7.0 represents a major breakthrough in the discovery of location-based social insights. - Eric Klasson, Snaptrends Co-Founder & CEO
Austin, Texas (PRWEB) August 04, 2016
Snaptrends, a leading provider of social media monitoring software, has announced the much anticipated release of version 7.0 of its powerful cloud-based platform. The seventh major iteration of Snaptrends contains sweeping feature enhancements and creates an even more streamlined and intuitive experience for users, allowing them to easily discover, analyze and share social media insights.
"We design everything with our customers in mind, and Snaptrends 7.0 is a prime example of how we take customer feedback and incorporate it into future developments and innovations," said Todd Berry, Chief Technology Officer for Snaptrends. "Snaptrends 7.0 represents a major breakthrough in the discovery of location-based social insights," added Eric Klasson, Co-Founder and CEO of Snaptrends. "Now, social media content is easily discoverable and can be analyzed alongside thousands of other data sets which are all available through our deep integration with Esri."
In addition to improving performance and workflow, Snaptrends 7.0 includes the debut of several new features which help simplify the process of gaining in-depth insights from social media data. A few of the things that users of Snaptrends 7.0 will now be able to do are:

View all searches in one place with a combined results page
Organize searches in customizable and sharable folders
Create live streams from one or more saved searches
Bookmark posts, view summaries, and take other actions inside streams
Use Topic Tabs to explore trending topics within searches
Block people across accounts
Smart and innovative, Snaptrends 7.0 promises to equip users with a host of functionalities that enable them to quickly and easily gain a big-picture perspective of their social media data, and organize it in new ways.
About Snaptrends
Snaptrends is a cloud-based social media monitoring platform that enables companies from every industry to harness the power of their social media data and make more informed decisions. As pioneers of geosocial intelligence, Snaptrends' patented location-based software helps companies identify and locate trending topics, key influencers and relevant conversations across a broad array of social networks. Featuring easy-to-use tools that allow users to quickly customize, analyze, visualize and organize social media data, Snaptrends is changing the way companies view and extract value from social media.