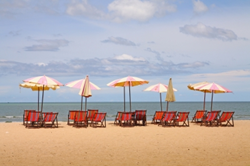 Florida timeshare ownership change is needed when spouses marry, divorce, create a trust or no longer use the timeshare.
Huntington Beach, CA (PRWEB) August 18, 2016
Deed and Record prepares deeds and records deeds with the county courthouse for timeshares located in the state of Florida. This tip sheet explains when ownership change is needed and how to change ownership. Deeds change ownership of timeshares and are used in divorces, new marriages, gifting and trusts.
In a divorce one spouse is awarded a Florida timeshare. As long as the other spouse remains an owner, her or she has access and use of the timeshare and remains responsible for the maintenance fees. A deed is used to remove the spouse as an owner.
A newlywed who is the sole owner of a timeshare is the only spouse who can make reservations and access the timeshare. On the death of the owning spouse, the surviving spouse will have to initiate a probate court filing to become the owner. To allow access and to avoid probate, a deed is needed to add the new spouse as an owner.
Timeshares are often overlooked in funding trusts. A husband and wife create a trust to avoid probate. But if the timeshare is not owned by the trust it does not avoid probate. Ownership transfer to a trust is by a deed.
Often a husband and wife no longer want their timeshare. They cannot use the timeshare and do not want to pay the ongoing maintenance fees. Timeshares can be difficult to sell. But people still want them. A solution is to gift the timeshare. A husband and wife can gift the timeshare by quit claim deed.
Ownership by a husband and wife are by deed. A deed is an 8 ½-by-11-inch paper. The deed is signed by the husband and wife to change ownership. Deeds recorded in Florida require the each spouse's signature to be both notarized and witnessed by two individuals. The notary may act as one of the witnesses.
The signed, notarized and witnessed deed is provided to the Court Clerk in the County where the timeshare is physically located. The Clerk records the deed to make the deed part of the public record. A copy of the recorded deed is provided to the vacation resort company to update their records. Each resort company charges for this service and the cost varies from resort to resort.
Timeshare ownership change is needed to add a spouse due to marriage, remove a spouse due to divorce, to fund a trust or to gift a timeshare. Ownership change is by deed. The deed must be recorded with Court Clerk. A copy of the recorded deed must be provided to the resort company.
This press release is provided by Mark W. Bidwell. Mr. Bidwell advertises through the website http://www.deedandrecord.com. Phone number is 714-846-2888. Office is 4952 Warner Avenue, Suite 235, Huntington Beach, CA 92649.