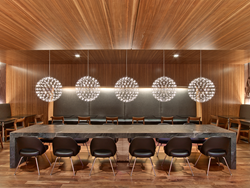 Secure Route is keeping the network clean, and when threats appear, it makes them stop trying. I sleep better at night.
Hoboken, NJ (PRWEB) August 02, 2016
eMazzanti Technologies, a New York City area IT consultant and managed services provider (MSP), has published a new case study demonstrating the effectiveness of eCare Secure Route, the IT security consultant's cloud-delivered network security service, for local architecture and design firm, Mancini Duffy.
eCare Secure Route detects and blocks attacks before they are launched, monitors employee cloud services usage, and protects the firm's guest Wi-Fi. Organizations stop up to 98 percent more attacks than firewalls and antivirus alone by pointing DNS traffic to eCare Secure Route.
The study explains how, after suffering a crypto virus ransomware attack, the Mancini Duffy engaged eMazzanti Technologies to quickly deploy the cloud-based network protection.
"I sleep better at night," related Tim Rocks, Director of Information Technology, Mancini Duffy. "Secure Route is keeping the network clean, and when threats appear, it makes them stop trying."
Below are a few excerpts from the case study: "eCare Secure Route Delivers Peace of Mind, Blocks DNS Attacks."
"Rocks understood the potential costs of a successful attack. 'The business could be knocked out of commission, resulting in missed deadlines and costing tens of thousands in payroll,' he stated. 'Client relationships are the biggest concern. We could lose a whole project, or even the client.'"
"Setup was very fast, very straightforward and we experienced no problems. We turned it on and it works. Secure Route pretty much runs itself with no effect on latency."
"eCare Secure Route continuously observes new relationships forming between domain names, IP addresses, and autonomous system numbers (ASNs). This visibility enables it to discover, and often predict where attacks will emerge before they launch."
"Rocks works hard to secure the firm's data and reputation. Functioning at the DNS layer, eCare Secure Route delivers him scalable, enterprise grade security via the cloud with no additional latency. 'Using SecureRoute allows us to focus on other concerns,' concluded Rocks. 'The things that make us great.'"
Professional Network Defense
Hundreds of Internet threats emerge daily. Early detection is the key to an effective defense of valuable assets and personnel. eMazzanti's expert IT security professionals employ advanced data security technology with a proactive approach to help organizations thwart a wide variety of attacks.
Other related resource information:
eMazzanti Technologies Issues US-Cert Ransomware Warning
6 security red flags when identifying the perfect cloud storage solution
About eMazzanti Technologies
eMazzanti's team of trained, certified IT experts rapidly deliver cloud and mobile solutions, multi-site implementations, 24×7 outsourced network management, remote monitoring and support to increase productivity, data security and revenue growth for clients ranging from law firms to high-end global retailers.
eMazzanti has made the Inc. 5000 list seven years running, is a 2015, 2013 and 2012 Microsoft Partner of the Year, and a 5X WatchGuard Partner of the Year! Contact: 1-866-362-9926, info@emazzanti.net or http://www.emazzanti.net Twitter: @emazzanti Facebook: Facebook.com/emazzantitechnologies.