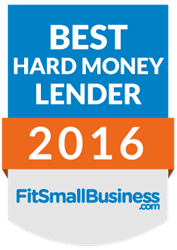 "Hard money loans get a bad rap for being extremely short-term, high-interest rate loans, but South End Capital breaks from the mold." — Priyanka Prakash, Fit Small Business
Los Angeles, CA (PRWEB) August 03, 2016
South End Capital Corporation (SECC) has been named "Best Hard Money Lender for Small Businesses" by Fit Small Business (fitsmallbusiness.com), a highly respected and in-depth reviewing website for all products and services related to small business.
SECC was named Number One in a crowded space of over 600 US hard-money lenders. The firm was singled out because, according to the report, it offers "relatively low rates, long terms, and small loan sizes, all of which are unusual for a hard money lender."
"To be honest," the lengthy review added, "hard money lenders are generally not known for their excellent customer service." It went on to say, however, that South End Capital "stood out for having great customer service." A comprehensive table highlighted other SECC strengths compared to other industry leaders.
The 3,000-word July 21 report was filed by Priyanka Prakash, a business analyst, writer and attorney whose areas of expertise encompass critical aspects of small business finance. Since its launch in 2013, Fit Small Business has attracted a monthly readership of over 450,000 readers, notably because it conducts scrupulous and extensive research on its target markets. The site's reporters routinely go undercover, posing as prospective clients and purchasers, before filing their exhaustive reviews.
"We were thrilled to be named Fit Small Business's 2016 Best Hard Money Lender for Small Businesses" stated SECC Managing Director Noah Grayson. "We were also delighted to discover that the report focused on all of the things that have been our own focus since our inception in 2009—integrity in lending; a desire to help small business owners who are turned away by conventional lending institutions; and great rates, terms and customer service."
Prakash's report specifically stated that "Hard money loans get a bad rap for being extremely short-term, high-interest rate loans, but South End Capital breaks from the mold." She went on to point out that SECC's longer terms can help hard-money borrowers work out their often challenging situations.
"That's true," Grayson explained. "Many of our clients were hit hard during the previous decade's major recession, and have gone through bankruptcy or foreclosure, which severely limits their borrowing power. I am so pleased that more and more small business borrowers are finding out about SECC, and about hard-money—or privately financed—business lending."
In fact, business financing applications from small business owners have grown dramatically at SECC year-over-year. The seven-year-old boutique lender and finance firm received approximately 1436 small business loan applications in 2015 totaling almost $687 million.
Grayson projects 2016 to be another year of landmark growth for SECC, with small business application volumes estimated to represent an excess of $1 billion.
ABOUT SOUTH END CAPITAL CORPORATION
South End Capital Corporation (SECC) was founded in 2009 and is a nationwide, non-conforming lender (CA Finance Lenders License # 603 L334) providing collateralized and uncollateralized loans to business owners and real estate investors directly and in participation with third-party lenders.
SECC offers easy online applications, excellent service, prompt responses and custom tailored loans. SECC welcomes both borrower and broker inquiries and offers generous compensation to approved referral partners. Visit http://www.southendcapital.com or contact Noah Grayson at (888) 268.7778 x 5 / noah@southendcapital.com.