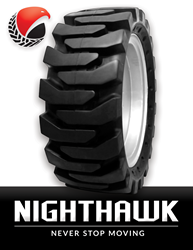 This new tire is the royal flush of the tire world because it outperforms, outlasts and outdoes anything else on the market.
Houston, Texas (PRWEB) August 02, 2016
Nighthawk recently unveiled its new 36.5x12-20 (14x17.5 equivalent) tire, a premium solid rubber tire with a directional tread pattern that is aggressive enough to handle rough terrain, yet durable enough for everyday use.
"Our 36.5x12-20 epitomizes all of Nighthawk's most innovative capabilities," said Kareem Shaaban, the company's Vice President of Sales & Marketing. "We say this new tire is the royal flush of the tire world because it outperforms, outlasts and outdoes anything else on the market. The 36.5x12-20 ushers in a new generation for Nighthawk by delivering another exceptional product that, among other notable benefits, offers a distinct aperture design that is tailored for heavy loads, reducing operator fatigue and enhancing stability control."
The tire's tread compound and design deliver the ultimate in stability, durability and reliability. Compared to pneumatic and foam-filled tires that lack longevity, Nighthawk tires are crafted from a proprietary rubber compound that is designed to enhance durability and are 100 percent flat proof. The 36.5x12-20 is noted for its versatility. It is configured to fit a variety of skid steers including models from Bobcat, John Deere and New Holland, and it also fits a number of telehandlers, aerial work platforms and boom lifts from JLG, Haulotte, Genie and others.
"Nighthawk makes tires that aren't afraid to get dirty," Shaaban added. "The 36.5x12-20 was made for people who play and work in the dirt, for people who like to test boundaries and toe the line at times. At 12 inches wide, this tire maximizes its grip on the terrain, outperforming its competitors in the toughest of conditions. Nighthawk understands that tires must keep up with operators when push comes to shove; that's why the 36.5x12-20 tire provides colossal resistance to cutting, chunking and abrasion."
In addition to these features, the Dura-Flex 36.5x12-20 solid tires capture the renowned quality and customer satisfaction that Nighthawk has built its reputation on. Committed to providing products meant to endure the test of time, "The Nighthawk Advantage" offers its customers three specific assurances: exceptional quality, the industry's most impressive warranty, and Nighthawk's "best value" guarantee. Nighthawk refuses to be beaten on price, so they guarantee that they will meet or beat any written quote for a comparable product.
For more information on the Nighthawk 36.5x12-20 solid tire visit http://www.nighthawktires.com and "Request a Quote" or call (855) 429-5669 and your call will be answered by a Nighthawk team member.
About Nighthawk
Since 2010, Nighthawk has been an industry leader in manufacturing solid tires and rubber tracks. Their mission is to provide high-quality products at an exceptional value. By standing behind their word with "The Nighthawk Advantage", Nighthawk saves customers time and money. Whether working hard, building their reputation, developing new products, or providing the most comprehensive line of rubber tracks and solid tires, Nighthawk is known as the gold standard in tires and tracks.