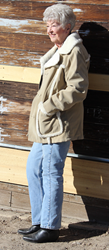 Age should not be a hinderance to new technology. You have much to contribute
Hemet, CA (PRWEB) August 11, 2016
M.J. Vigna, author of "Deadly Deadly" states that if senior citizens embrace the new technologies available, their possibilities are endless. M.J. Vigna's debut novel was not published until she was 84 and new sequel coming at end of 2016.
"There are so many opportunities available to senior citizens if they will embrace the changes that have come with smart phones and the Internet," says Linda Ruggieri, daughter to M.J. Vigna, author of "Deadly Deadly." "Many senior citizens fear trying to learn how to work these programs, or have found it to be too difficult."
Linda Ruggieri goes on to explain that many senior citizens don't recognize what a valuable resource they are. A large portion of our Baby Boomers and elders know how to do things that are becoming a lost art in the trades, crafts and everyday things that most of the younger generations are not exposed to. For example: carpentry, painting, woodcarving, printing, sewing, musical instruments, gardening, cooking, even how to mow the lawn. The list is endless. "I'm surprised at the number of younger aged adults who don't even know how to hand wash dishes or load a dishwasher properly," she chuckles.
There are so many ways that seniors can have fun with the Internet. They can share their knowledge with posted videos or blogs, reunite with friends from their past, stay in daily contact and enjoy photos of family, find activities, and make money.
Most senior citizens have items in their home that people would snap up in a minute on the Internet, especially collections and vintage items.
If you are one of many, amongst the elderly, who find the internet intimidating, and don't want to try and conquer it, consider partnering up with someone who is comfortable with new technologies. Find a friend, family member or hire someone to handle or help you with your ideas.
Seniors don't have to be experts with our current technology, they just need to find someone who is. Let someone else handle that part for you while you get to do the fun stuff.
As an example Linda Ruggieri points to how she helped her mother, M. J. Vigna. M.J. had written a wonderful novel in the form of a manuscript, decades earlier. She had never sent it out due to fear of rejection. In 2013, Linda decided to take it upon herself to tackle getting the book self-published. Her mother was 84 years old at that time.
"Publishing this book really changed my mothers life. All of a sudden she is getting respect from strangers, notes on her Facebook, people really interest in her life and her as an author," says Linda. "She enjoys reading the reviews of her book "Deadly Deadly," unless it is an unfavorable review, she takes those pretty hard".
"Publishing this book has awakened her desire and joy of writing. We now have a sequel to the first novel, all due to reader demand."
M.J. Vigna, author even went out and purchased an iPhone. She is excited by the new technology and now has more reason than ever keep trying to learn. She knows, however, that her daughter will work with her in any way to keep her giving her special gift to people.
The important lesson to this learn from this says M.J. Vigna, is not to give up on your dream no matter how old you are. With the advent of the Internet, senior citizens have endless possibilities.
M.J. Vigna's debut novel, "Deadly Deadly" can be found on Amazon.com at amzn.to/16XIgXU. Her website is Facebook.com/mjvigna.