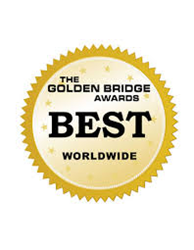 "Using Seceon's OTM is like being given super powers" Bryon Beilman President, Iuvo Technologies
Westford, Massachusetts (PRWEB) August 03, 2016
Seceon, the only cyber security threat detection and management company to visualize, detect, and eliminate new and known threats in real-time, today announced it has earned the prestigious gold status in the Golden Bridge Awards® as a Startup of the Year in the security software category. Seceon's advanced Open Threat Management Platform was also recognized as a bronze winner in the Innovation of the Year category for Best Product.
The coveted annual Golden Bridge Awards program encompasses the world's best in organizational performance, innovations, products and services, executives and management teams, women in business and the professions, innovations, best deployments, product management, public relations, marketing, corporate communications, international business, and customer satisfaction programs from every major industry in the world. Winners will be honored in San Francisco on Monday, September 12, 2016 during the annual Red Carpet Golden Bridge Awards Ceremony.
Seceon's award-winning Open Threat Management Platform is quickly gaining notoriety as a breakthrough solution effective at detecting and stopping the most dangerous and costly threats as soon as they happen, while dramatically lowering IT costs. Recently named one of Network World's "Hot Security Start-ups 2016," CIO Review's Top 20 Most Promising Enterprise Security Companies and Silicon Review's Top 20 Fastest Growing Security Companies, Seceon has also received recognition as a security strategy finalist in Light Reading's Leading Lights awards and in the Cybersecurity Excellence Awards for security analytics and best security startup.
Seceon enables today's security teams to see the threats that matter clearly and immediately upon deployment, stop threats from inflicting damage and thereby securing critical assets such as intellectual property, personnel or financial information. It also surfaces insider attacks through behavioral threat detection modeling and machine learning. Seceon's solution automates human-intensive tasks and gives resource-strapped security teams the ability to detect and stop the most dangerous threats in real time, protecting corporate assets, preventing exfiltration of data and reducing the costly effects of breaches.
"It's an honor to be named a winner by the Golden Bridge Awards for this esteemed industry and peer recognition for both our business and our product," said Chandra Pandey, Seceon Founder and CEO. "These awards are a testament to Seceon's commitment to enterprise threat detection and continued validation of our efforts to better protect the enterprise from zero day threats, insider threats and compromised credentials."
About Seceon
Taking a new approach to conventional threat detection and management, Seceon helps today's enterprise detect and stop both recognized and never-seen-before threats when they happen, instead of days, or weeks later. Leveraging intelligent data collection and analysis, Seceon's Open Threat Management platform provides unmatched visibility across the entire network—from the intercommunication of users, devices and applications— surfacing only the most relevant threats in real-time and the means necessary to eliminate them immediately. To learn more about Seceon's comprehensive, Open Threat Management platform, please visit http://www.seceon.com or email info(at)seceon(dot)com