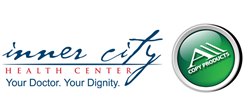 "Denver nonprofits need partners like All Copy Products that take this collaborative and organized approach to corporate giving." -- Kraig Burleson, CEO of Inner City Health Center.
Denver, Colo. (PRWEB) August 02, 2016
Inner City Health Center, a provider of health, dental, and behavioral care and counseling services to uninsured and underserved families, entered into a "Win-Win Partnering" relationship with one of Colorado's top private employers, All Copy Products. The win-win partnership delivers financial benefits to both partners on top of the impact they are making within our community.
On Aug. 20 from 9 a.m. to 5 p.m., All Copy Products employees will be joining more than 20 volunteers from the Lions Club of Denver at Inner City Health Center at 3800 York in Denver to help support the center's first free vision screening for community members who need eyesight testing. This vision screening was setup and made possible by The Denver Lions Club, in partnership with Inner City Health Center's Congregational Health Ministry.
In addition to addressing routine vision problems, studies show a significant correlation between regular eye exams and the early detection and intervention for many systemic diseases. At the vision screening, patients of all ages can have their eyes refracted with electronic equipment, and optometrists and bi-lingual volunteers will be on-site to assist with vision services and distribute recycled glasses to patients in need.
"Denver nonprofits need partners like All Copy Products that take this collaborative and organized approach to corporate giving," said Kraig Burleson, CEO of Inner City Health Center. "This partnership is a game-changer for our organization because it allows us to plan for and use contributions in the most strategic manner possible, ensuring that we're delivering quality healthcare, vision, dental and behavioral services to as many Coloradans as possible. It's also helpful to have a pool of volunteers who's support we know we can depend on."
"Corporate citizenship is at the very foundation of our culture," said Brad Knepper, president of All Copy Products. "Employees – particularly the newest generations to join the workforce – are actively seeking employers who take community giving seriously, and win-win partnering takes us well beyond writing a check to staff engagement with programs like the upcoming vision screening."
This year, All Copy Products' contributions to Inner City Health Center will be approximately $35,000 and are expected to grow to nearly $60,000 in 2017.
About Inner City Health Center
Inner City Health Center has been providing pediatric, prenatal, senior and adult health care; dental care, and behavioral counseling services to uninsured and underserved families and individuals in the Denver metro area for 32 years. In 2015, ICHC treated 9,300 patients during 21,000 visits. The center serves as a safety net clinic for anyone who who isn't covered by a company or group healthcare policy, regardless of age, education level, race or economic status. Find us online at innercityhealth.org, twitter.com/InnerCityHealth and facebook.com/InnerCityHealth
About All Copy Products
All Copy products is a Colorado-based company and national provider of digital office equipment and managed print services, workflow solutions and document management. They have served Colorado and businesses around the nation for more than 40 years, and are locally and nationally recognized for customer support and many other corporate milestones. Fine All Copy Products online at: allcopyproducts.com, twitter.com/AllCopy, and linkedin.com/company/all-copy-products
About Denver Lions
Denver Lions, founded in 1917, lead programs to help people see and succeed. An active organization, members raise money, volunteer and direct sight- and family-focused programs. At weekly lunches, members network and learn about contemporary issues. The group welcomes anyone who believes in community service, friendship, and the power of connection.