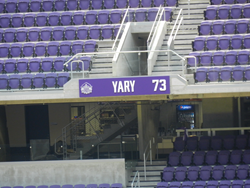 "Working with the Vikings and the Minnesota Sports Facility Authority has been a great experience," said Robb Walker, CEO of Lawrence Sign. "We are very proud to have our custom signage be a part of this world class stadium."
St.Paul, Minnesota (PRWEB) August 02, 2016
Since the incredible 1961 debut of the Vikings, the Minnesota gridiron fans have been riding the purple and gold wave. On Tuesday, July 26th, 2016, twenty one of the key people responsible for the success of Minnesota pro football were honored at the Purple Gala with the unveiling of the Vikings' Ring of Honor in the new U.S. Bank Stadium.
Lawrence Sign was chosen to design, manufacture and install the signage for each player inducted into the Minnesota Vikings Ring of Honor and individually recognizing those also in the Pro Football Hall of Fame. Each name was built using painted acrylic letters on 2' x 12' non-illuminated pan signs and were installed inside the bowl on the upper concourse.
"Working with the Vikings and the Minnesota Sports Facility Authority has been a great experience," said Robb Walker, CEO of Lawrence Sign. "We are very proud to have our custom signage be a part of this world class stadium."
Producing and installing signage with the legendary names of Tarkenton, Page, Eller, Grant and many more took an ordinary work day to a new level for the Lawrence Sign team. This custom signage represents a part of history and the building of a strong football tradition in Minnesota.
About Lawrence Sign & Nordquist Sign
Lawrence Sign, founded in 1929, designs, fabricates and installs signs for almost every industry servicing local, national and international clientele. Lawrence Sign utilizes advanced technologies and expansive facilities to provide direct in-house control of the entire sign fabrication process. The Company excels at serving companies with a multi-site national and international presence.
Nordquist Sign has been fabricating and installing interior and exterior signage, architectural elements and way-finding signage for more than 100 years. Nordquist's customer base and scope of work includes custom signage and environmental graphics for hospitals, sports facilities, themed entertainment, corporate/financial and mass transit industries. Nordquist Sign also maintains a gaming division with offices in Las Vegas, NV and St. Paul, MN to serve casino gaming markets throughout the United States.
In early 2012, Lawrence Sign combined with Nordquist Sign to unite the unique resources and capabilities of the two companies. Together, Lawrence Sign and Nordquist Sign offer their clients more than 175 years of experience in sign manufacturing and installation for all facets of the signage industry.